Recording Artist 'Qnova' is Taking the Entertainment Industry by Storm
Press Release
•
Dec 17, 2021
Check up on Qnova because up is where she is going in the entertainment industry. Bet Mobile DST International Presents: Qnova.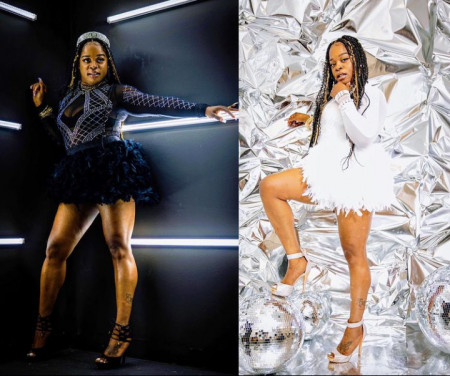 ATLANTA, December 17, 2021 (Newswire.com) - Atlanta, Georgia, has one more powerful artist hitting the scene. Born and raised in Atlanta, this female artist that is calling the shots goes by the stage name of Qnova.
Quachavious Ellison, better known by her stage name Qnova to the music scene, is making real power moves. Qnova is an Atlanta native that is doing her thing and is the true definition of a "Boss Lady". Not only is Qnova a musical entertainer, she is also a talented songwriter host and business entrepreneur. This lady has beauty and brains: she graduated in 2020 from Ashford University, where she earned her Bachelor of Arts Sociology in the College of Arts and Sciences. Qnova excelled and rocked the college scene just like she does the stage and was awarded the Magna Cum Laude honors award.
Qnova has been a busy woman this year, and this is just the beginning of bigger things to come. This spring, Qnova was interviewed live on Black Ink Radio that is owned by Ceasar Emanuel, who is well-known for being the owner of tattoo shops in New York and Atlanta. Qnova is no stranger to the camera: she featured on the music series "In the Mix", which is a television show that is based in Atlanta that takes an inside look at music and lifestyles of hot indie artists. Qnova has created and hosted several of her own rap-battle events in person and on several social media platforms.
Qnova has had some heavy hitters in the industry give her the recognition that she deserves. To begin with, her single "Check Up" was chosen to be featured on Snoop Dogg mixtape called "The Return of Doggystyle Records". She has performed at The Gateway Center Arena that is co-owned by rapper 2Chainz and has also been promoted on several radio stations, including Atlanta's very own Hot 107.9. You can check out her music video titled "Let's Get Paid" that featured artist & engineer Mike Beezy Badass. This video was directed by Curtis Snow, who is known for his reality film called "Snow on the Bluff", which documents life on the streets of some of Atlanta's toughest neighborhoods.
Qnova is a talented artist that has history here in Atlanta and is looking to hit the scene and microphone near you. Qnova has done interviews with several well-known sources such as Hip Hop Weekly, ThisIs50, Indie Rap Blog and Voyage Atlanta Magazine. Check out these write-ups about her on any of these sites and you will be blown away.
Check her out on all her social media outlets
YouTube link to song Let's Get Paid: https://youtu.be/ZsHDUYckoh8 EDITORS PICK
Twitter: https://twitter.com/qnovaofficial
Source: Qnova, musician
Tags
Related Files