The Real Keke… the Silence is Over
Press Release
•
updated: Jan 20, 2020
Hear My Voice, My Story, My Pain and Especially My Name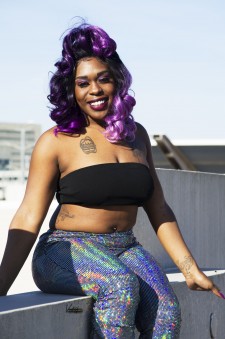 ATLANTA, January 19, 2020 (Newswire.com) - Marquia Whitaker, better known to the industry as The Real Keke is making moves to showcase her talent as an explosive songwriter and artist. The Real Keke has had a plethora of trials and tribulations throughout her life, however in the end she has made it out and is being heard. The Real Keke has a vision to be a female phenomenon that will make history.
The Real Keke was given the nickname of Keke by her mother when she was a baby was born in Nacogdoches, Texas. Keke was blessed with a large family with a total of 13 siblings. At an early age, she was split from her older siblings and moved to the city of Griffin, Georgia on the southside of Atlanta. At this time in her young life, things took a drastic turn and she was placed in the system and sent to two foster homes prior to her aunt and uncle adopting her. Marquia suffered the loss of her grandmother in 2009 and also her closest brother being sentenced to 25 years in prison. To escape, she would run away from home and be in and out of her family home. At the age of seventeen, she was arrested and charged with fighting; at this point, she felt that she had been fighting her entire life and that the devil was trying to destroy her. At this point, she realized it was time to break the chains and the silence… and be heard.
The Real Keke has always had the desire to write, even beginning at an early age of seven. At this time she recalls sitting in her room and writing stories of her childhood and the traumatic events that she endured. In "2012", Keke and her cousin released their first song on YouTube called "Dese B***hes Don't Want It", and soon after she graduated from high school she released "We Winning". The biggest project to this day for The Real Keke was "Feed Me the Money" released on her birthday Oct. 30, 2019; this can be found streaming on all major platforms.
The Real Keke is a talented writer and artist that will tell you that all of her life she felt completely alone with the exception of God by her side. Keke's belief in God and the wisdom that was given to her from her grandmother allowed her the knowledge to exhibit the facade of being a strong woman. Keke wants her story to be heard to empower young aspiring artists that feel they are alone.
The Real Keke will continue to write and make music with a smile on her face and plans to put permanent smiles on others' faces while she creates versatile and soul feeling music.
Source: BET Mobile DST International
Related Media