Kodi VPN Services Stand Out as Best Option to Unblock Restricted Football Streams by VPNRanks
Press Release
•
updated: Aug 23, 2017
Football fans, who have waited long to watch English Football matches on Kodi, are now being met with broken links and restriction messages courtesy of local U.K. ISPs. Despite these restrictions, a Kodi VPN unblocks Football online streaming without the threat of being monitored & blocked out by ISPs; thus enabling viewers to watch Football matches live on Kodi for free.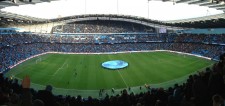 SINGAPORE, August 23, 2017 (Newswire.com) - In recent times, Kodi (formerly XBMC) has emerged as one of the most popular apps to watch movies, TV shows, and live IPTV channels (Internet Protocol TV) without a subscription. As a result, it has stirred great controversy amongst English Football official broadcasters. U.K. Internet Service Providers (ISPs) have been ordered to restrict viewers from streaming football matches online with more than 5,000 servers blocked immediately.
Amidst the Kodi vs ISP chaos, VPN Ranks suggests Kodi VPN services as the best solution to unblock restricted Football streams. Using Kodi VPN over Kodi boxes will allow users to bypass U.K. ISPs network monitoring & deep packet inspection.
After U.K. ISPs block access to servers providing English Football streaming, Kodi VPN becomes a highly sought commodity.
The decision by the U.K. High Court to block football streams has only been issued to local ISPs, hence, Kodi users can watch football matches on Kodi by simply changing their IP address. A Kodi VPN therefore, will not only unblock football streams but will also keep your identity safe from ISP monitoring.
Similarly, Kodi VPN also keeps your identity hidden when you watch free movies and TV shows with the best Kodi add-ons. Despite these restrictions, Kodi offers subscription free media viewership for users.
Kodi's third party add-ons are countering these challenges through development and dispersion of Kodi Builds, repositories, and add-ons. More and more people are turning towards Kodi's free streaming because of soaring prices set by TV broadcasters. With a standard sports TV bundle costing north of £60/month, Kodi VPN could well be a blessing in disguise.
Source: VPNRanks
Additional Links