Khemsoft Offers Vacuum Truck Services in Kentucky for Industrial Cleanup
Press Release
•
Aug 30, 2016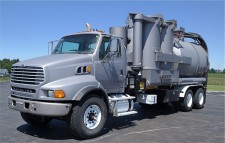 Mount Sterling, KY, August 30, 2016 (Newswire.com) - ​Vacuuming is commonly known in the industrial cleaning market and in manufacturing as "vacuum truck services". Cleaning via vacuum trucks is necessary in nearly every industrial application and ensures ongoing production while maximizing quality and efficiency of the manufacturing process.
Khemsoft is a premier specialty and industrial cleaning company, they have invested in a top-of-the-line vacuum truck. Khemsoft utilizes a Supersucker vacuum truck for removal of wet and dry material. Their Supersucker vacuum truck is perfect for a wide variety of industrial, environmental and agricultural cleaning projects, truck-mounted vacuum loader offers high power suction to pneumatically convey solids, liquids, sludges or slurries through lines 8" in diameter.
Vacuum loading can be used in a wide range of industries. They are equipped to handle virtually any industrial vacuuming application, including: Refineries, Gas Processing Plants, drilling locations and production facilities, catalyst transfer and removal, cleaning sludge from storage tanks, abrasive removal after sandblasting, and waste sump cleaning.
One of the largest environmental concerns associated with vacuum trucks is reducing production of volatile organic compound (VOC) emissions released during conventional vacuum truck operations. Customers and service providers alike are concerned about the cost of replenishing active carbon and liquid scrubbing agents that help mitigate these emissions, as well as the overhead costs associated with the manpower needed to supervise and maintain the unit's scrubber pollution controls while the vacuum trucks are operating.
Khemsoft utilizes the best available control technology for VOC management to ensure environmental compliance, enhance safety performance and deliver cost-effective services. Khemsoft's positive displacement pump vacuum trucks eliminate the need for expensive active carbon or liquid scrubber pollution reduction systems. This system delivers the highest standard for controlling and eliminating VOCs in vacuum trucks today, and can help clients more effectively manage their operations' emissions and project costs.
Located in Mount Sterling, KY, Khemsoft can mobilize their vacuum truck and provide emergency services throughout Kentucky in as little as 24 hours. They provide vacuum truck services in Kentucky, Ohio, Indiana and West Virginia.
Source: Khemsoft
Related Media
Tags
Additional Links