Ken Tamplin Vocal Academy Vocalist, Anthony Vincent, Makes Headlines in Rolling Stone
Press Release
•
updated: Mar 8, 2017
A Ken Tamplin Vocal Academy student featured in Rolling Stone.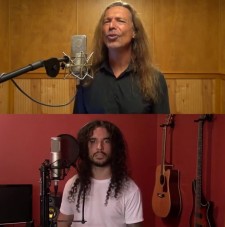 Orange County, California , March 8, 2017 (Newswire.com) - Ken Tamplin Vocal Academy provides amateur, beginners, and pro singers with the skills they need to become seasoned professionals—and part of that means being able to sing a wide range of material in a wide range of styles. One Ken Tamplin Vocal Academy vocalist is putting that training to exceptionally good use, and earning national headlines in the process. Anthony Vincent has leveraged his vocal training to make quite a splash on YouTube—and Rolling Stone has taken notice.
In one popular post, Vincent displays his versatility by singing the System of a Down song "Chop Suey!" The catch? He sings it in 20 different styles, imitating what the song might sound like if it was performed by Michael Jackson, the Bee Gees, George Michael, and even Wu Tang Clan.
The video has become so popular that Rolling Stone recently celebrated it, calling it a "mind-boggling" example of Vincent's talents.
These positive notices are just one more example of how Ken Tamplin Vocal Academy takes beginner-level singers and provides them with the training necessary to attain professional-level skill and standing.
ABOUT KEN TAMPLIN VOCAL ACADEMY
Ken Tamplin Vocal Academy is a labor of love from award-winning singer and master vocal coach Ken Tamplin. The unique How to Sing Better Than Anyone Else vocal course was developed as Tamplin, then a guitarist, sought a way to develop his own vocal talents. More information is available in the form of Ken Tamplin Vocal Academy reviews and on the Ken Tamplin Vocal Academy social media accounts.
Source: Ken Tamplin Vocal Academy
Related Media
Tags