Kazan Networks to Demonstrate World's Fastest Networked EBOF
Press Release
•
updated: Aug 8, 2017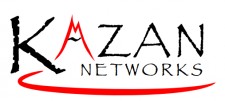 SANTA CLARA, Calif., August 8, 2017 (Newswire.com) - Kazan Networks Corporation will be demonstrating the world's fastest Ethernet-attached Bunch of Flash (EBOF) at this year's Flash Memory Summit. With 24 SSDs running in a 2U enclosure, Kazan's NVMe over Fabrics™ interfaces deliver over 15 million I/Os per second, believed to represent a new high-water mark in performance.
Partnered with Sanmina-Newisys and leveraging their new NVMe-oF™ EBOF system, six of Kazan Networks' bridges provide a total of 600Gb/s of Ethernet bandwidth, equating to just over 60 gigabytes per second. These levels of performance enable an entirely new datacenter architecture, where scalable pools of storage can be accessed and shared by hundreds, or even thousands, of servers.
"We are thrilled to be demonstrating something this year which will soon begin deploying in real datacenters worldwide," stated Joe Steinmetz, CEO of Kazan Networks. "One year ago we demonstrated the concept of an NVMe-oF EBOF, and this year we're showing the real thing, a tremendous accomplishment by our team."
The advantages to disaggregating storage are numerous, but at the top of the list is cost savings: By providing flexibility in how much storage to connect to each application, storage utilization can be approximately doubled, meaning that less storage is required.
Also in Kazan's booth are demonstrations of Intel's new Optane™ SSD, connected via NVMe-oF, and a multidomain analyzer system from Viavi. All demonstrations center around Kazan Network's new Magma NVMe-oF bridge adapter, now available to order by customers. These industry-leading demonstrations are available to be viewed at Kazan Network's booth # 702.
About Kazan Networks
Kazan Networks is a privately held startup founded in December 2014 by storage networking veterans. The company is located in Auburn, California, and is currently selling their products to customers worldwide.
CONTACT: Bryan Cowger, Kazan Networks Corporation, +1-530-305-9151 bryan.cowger@kazan-networks.com
Website: http://www.kazan-networks.com
Source: Kazan Networks Corporation