Jumio Acquiring 4Stop, Redefining the End-to-End Identity Platform
Press Release
•
Dec 7, 2021
Addition of 4Stop's 650+ data sources will enable Jumio to orchestrate KYC, KYB and AML for complete customer lifecycle management.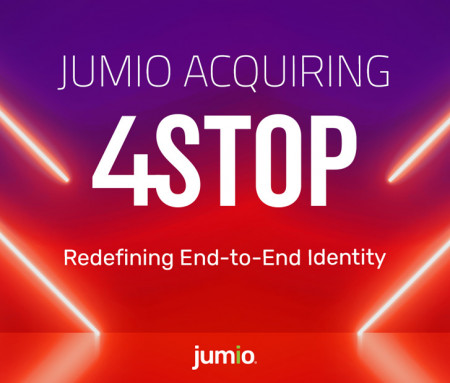 KOLN, Germany, December 7, 2021 (Newswire.com) - Jumio, the leading provider of AI-powered end-to-end identity orchestration, eKYC and AML solutions, today announced that the company is acquiring current strategic partner 4Stop, the leading data marketplace and orchestration hub for KYB, KYC, compliance and fraud prevention. The addition of 4Stop's data sources to the Jumio KYX Platform realizes Jumio's strategic vision of redefining the end-to-end identity industry.
Founded in Germany in 2016, 4Stop's global data marketplace and orchestration hub integrates with multiple vendors, giving access to more than 650 data sources across 195 countries.
4Stop's technology, when combined with Jumio's award-winning solutions, will enable organizations to manage the entire customer identity lifecycle with a single, unified platform and will allow for rapid configuration and integration through one easy and intuitive API layer.
This acquisition follows the launch of Jumio's intuitive no-code orchestration layer for its KYX Platform and will accelerate Jumio's business and technology objectives to solidify itself as the leader in digital identity orchestration. Financial terms of the agreement, which is expected to close in early 2022, were not disclosed.
"Today's pace and sophistication of cybercrime means organizations cannot afford to rely on multiple vendors for their identity verification and fraud prevention needs," said Jumio CEO Robert Prigge. "There's no way around it: a successful identity company must now have KYC, AML, KYB and orchestration. Together, 4Stop and Jumio's solutions will offer this and more, delivering a complete, end-to-end approach to identity orchestration and fraud prevention. Not only will customers be able to rely on a single system for all of their identity and fraud prevention needs, they'll also have an integrated and comprehensive view of their entire system, ensuring superior monitoring and risk management."
4Stop's global data and risk marketplace brings together their proprietary real-time anti-fraud technology with the largest selection of premium global data services for identity, transaction and compliance available in a pick-and-choose model. Businesses can confidently anticipate and manage their risk and fraud defense, regardless of region, market or industry worldwide, and make well-informed decisions backed by quantifiable data to manage regulatory obligations that will accelerate their business performance.
"It has always been 4Stop's passion to establish a modern, end-to-end and versatile data and risk management platform to better serve business' global compliance and fraud defenses. Our online ecosystem and regulations are constantly evolving. Businesses need to quickly adapt and sync with leading technology and obtain future-proof sustainability," said Ingo Ernst, 4Stop CEO. "We are very excited for the opportunity to join forces with Jumio to build and perfect crucial next-generation identity and anti-fraud solutions to support the growth of global online ecosystems."
To learn more about Jumio and its award-winning, AI-powered solutions, visit jumio.com
About Jumio
When identity matters, trust Jumio. Jumio's mission is to make the internet a safer place by protecting the ecosystems of businesses through a unified, end-to-end identity verification, eKYC and AML platform. The Jumio KYX Platform offers a range of identity proofing and AML services to accurately establish, maintain and reassert trust from account opening to ongoing transaction monitoring.
Leveraging advanced technology including AI, biometrics, machine learning, liveness detection and automation, Jumio helps organizations fight fraud and financial crime, onboard good customers faster and meet regulatory compliance including KYC, AML and GDPR. Jumio has carried out more than 500 million verifications spanning over 200 countries and territories from real-time web and mobile transactions.
Based in Palo Alto, Jumio operates globally with offices in North America, Latin America, Europe and Asia Pacific and has been the recipient of numerous awards for innovation. Jumio is backed by Centana Growth Partners, Great Hill Partners and Millennium Technology Value Partners.
For more information, please visit www.jumio.com
U.S. Media Contact
Diana Gallagher
10Fold Communications
jumio@10fold.com
408-656-9699
Europe Media Contact
Gemma Lingham
FleishmanHillard UK
gemma.lingham@fleishman.com
+44-752-569-9347
APAC Media Contact
Luke Nazir
FINN Partners
Luke.Nazir@finnpartners.com
+65 8139 2504
Source: FourStop GmbH (4Stop)