4Stop Unveils Its 4Score Risk Analysis Technology
Press Release
•
Oct 25, 2021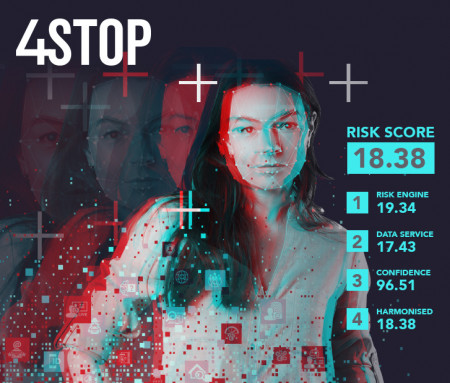 Cologne, Germany, October 25, 2021 (Newswire.com) - 4Stop ("Fourstop GmbH"), a global KYB, KYC, compliance and fraud prevention provider, announces the unveiling of their 4Score risk analysis technology. This advanced risk scoring unifies four layers of deep risk analysis obtained from KYC data verifications and harmonises into one accurate risk score.
When performing KYC, many factors are retrieved and extracted from the data performance. 4Stop has leveraged all components to develop its strategy in providing the world's leading risk marketplace features and tools. The 4Score is an innovative orchestration of data analysis output.
Layer 1 - Risk Engine Score
4Stop has built a powerful rules risk engine with over 800+ parameters, rule wizard, custom workflow builder, cascading rule logic, dynamic decision-making frameworks, custom thresholds unique to various touchpoints and sub-business accounts. When data is extracted and pulled through the 4Stop risk engine, the depths of analysis against all data attributes harmonises into one score.
Layer 2 - Data Service Score
In many workflows, the 4Stop cascading logic pulls more than one data provider for a single data service to ensure the best experience on data performance and output at the lowest cost possible. When the data provider performs their data extraction, they also provide a risk score to the 4Stop risk engine. 4Stop takes this score and the harmonisation of multiple risk analysis begins.
Layer 3 - Confidence Score
The more times a data segment has been verified across multiple data providers, the deeper the cross-analysis of the collected data brings to the foundation for the confidence score. For example, a customer provides their information for onboarding. All data providers active at this touchpoint process and send back their various KYC information, segments of data that cross-match consistently such as name, address, nationality, etc., enters our analysis engine to produce the confidence score. This layer is precious at providing trust in the data output always.
Layer 4 - Harmonised Risk Score
All risk scores within the 4Stop solution are the final result of the compiled risk analysis methodology from all 4Score aggregated risk output layers. A business can instantly obtain confidence in the risk output and easily deep-dive to understand its components.
As a result, onboarding times improve, acceptance rates improve, and reaction times to fraud or risk operations are dramatically improved and streamlined. Furthermore, implementing multi-level verifications in combination with 4Stop's 4Score provides enriched profiling to mitigate false positives, account takeovers, friendly fraud, chargebacks and more.
"We're excited to launch our 4Score for data-driven decisions that bring confidence to risk analysis, operations and management of every customer and transaction. Providing businesses with an advanced risk marketplace for a risk-free portfolio while utilising the data and technology for their business growth strategies," states Ingo Ernst, CEO, 4Stop.
For inquiries, contact sales@4stop.com.
Source: FourStop GmbH (4Stop)