4Stop's Data and Risk Marketplace Signed to Be Integrated With ZBX
Press Release
•
Nov 18, 2021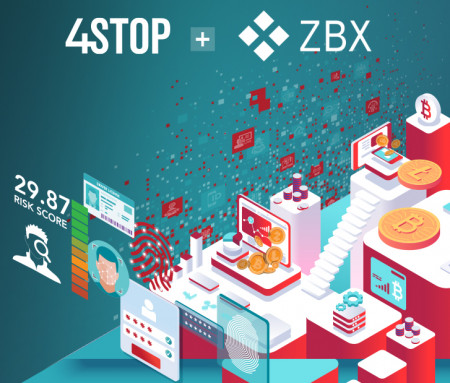 KOLN, Germany, November 18, 2021 (Newswire.com) - FourStop GmbH ("4Stop"), a leading global provider for data and risk mitigation technology, announces the signed agreement with ZBX to integrate 4Stop's data-driven Know Your Customer (KYC), Know Your Business (KYB) and advanced proprietary fraud prevention technology.
The crypto industry is rapidly growing and expected to hit USD 1.6 billion this year to USD 2.2 billion by 2026, at a CAGR of 7.1%. Even against the backdrop of the uncertainty raised by COVID-19, crypto adoption rate is garnering significant attention, with over 300 million cyrpto users and more than 18,000 businesses globally accepting the digital currency in the third quarter of 2021. ZBX, a cryptocurrency exchange registered in Europe, allows individuals and institutional traders to exchange Bitcoin and altcoins against cryptocurrency or the EURO.
With these growth rates, ZBX strives to provide cutting-edge fiat and crypto-centric products. Their current platform includes a banking API, providing clients with the option to bind their crypto wallets to a Swiss bank account, insured up to 100,000 Swiss Francs, that allows for secure and seamless OTC transactions. More than 1.7 billion people globally do not have access to banking infrastructure, and people are turning away from traditional financial services to fintech for better flexibility. Products and services such as ZBX are imperative to close the gap, bring inclusion, autonomy and flexibility to financial services.
As a regulated company, ZBX needs to operate in a fully compliant manner while also obtaining premium fraud defence in the digital industry. 4Stop's end-to-end and customisable data and risk marketplace quickly enable ZBX with peace-of-mind and confidence in its compliance management. 4Stop provides them with secure customer onboarding and engagement globally and doing so in a manner that does not bring forth high costs, multiple third-party data provider integrations, loss of time and resources.
Integration with 4Stop gave ZBX instant access to over 150 data services powered through 4Stop's proprietary robust anti-fraud technology with an array of risk marketplace tools. ZBX can build custom compliance workflows to support both their customer and business onboarding, along with obtaining real-time transactional monitoring and fully automated ongoing compliance monitoring and rechecks. Additionally, 4Stop's risk marketplace provides a fully automated and dynamic risk engine, cascading logic, case management, granular business and customer profiling, risk queue management, dynamic decision-making frameworks, a 4Score risk analysis, behaviour tracking, reporting and more. All configured with complete agility and customisation per account, region, timeframe and more. ZBX obtains everything they need to effortlessly solve their compliance, data and fraud defence worldwide and in an entirely future-proofed manner.
"We are very pleased to be engaging with world-class partners such as 4Stop. We expect that the harmonisation of crypto technology, regulation, AML fraud detection and regtech will continue to improve our end-user experience whilst also increasing our capacity to meet our ever-growing AML/CFT reporting requirements," states Ian Dawson, CFO, ZBX.
Learn more about ZBX or 4Stop and visit them at Sigma Europe.
Source: FourStop GmbH