JTT UAV Exhibited in Milipol Paris 2017 With Anti-Terror UAV Solutions
Press Release
•
updated: Nov 29, 2017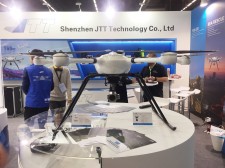 PARIS, November 29, 2017 (Newswire.com) - JTT showcased its full anti-terror solution at Milipol Paris 2017, the world's largest global security event, and presented industrial-level UAV T60 V2, T60 C and T70, as well as multiple payloads: Dual Optical Target Tracker, 4-in-1 Device, Infrared Thermal Imager, HD Zoom Camera, Throwing Platform, etc.
The star product - T60 V2 - features 55 minutes of flight time, satisfying the need of nonstop working for a long time in the air. The built-in long distance high-definition transmission device makes the maximum transmission distance reach up to 20 km, supporting multiple receiving points. In addition, the extensible airborne equipment, such as infrared thermal device, HD zoom camera and first-aid packs, enable T60 V2 to give the first-time response and the best solutions when an emergency occurs, and capable of working in various fields, including public security, maritime search and rescue, pipeline inspection, electrical inspection, homeland inspection, real estate and geological mapping.
This is not the first time JTT dazzled at a world stage. The trips to the U.S. and Germany also attracted enormous attention on the show. Every time the professional pilot has a flight demonstration in the designated area, the safety barriers are crowded with local and international media, also visitors from France, England, Germany, Algeria and Morocco, etc. They took out cameras and mobiles and recorded the unbelievable flight performance.
The advantages of JTT Drone in Anti-terror field
Real-time transmission videos for commander to make quick decisions
Monitors the target place without dead corners even if the fixed camera is destroyed by the terrorist
Gives warnings to the terrorists through the loud-speaker
Deploys thermal camera to monitor in harsh environments, such as smoky, foggy, dust conditions and so on.
As the leading Industrial UAV provider, JTT will provide the most powerful drones to fight against terrorism, contribute its own effort to make the world more peaceful.
Contact Information
Shenzhen JTT Technology Co.,Ltd.
Web: www.jttuav.com
Sales Contact: sdos10@jttuav.com
​Business Cooperation: md04@jttuav.com
​Tel: +86-755-86968648
Add: 6F, A5 Building, Nanshan i Park, No.1001 Xueyuan Avenue, Nanshan District, Shenzhen, Guangdong P.R.C
Facebook: https://www.facebook.com/jttuav/
Twitter: https://twitter.com/JTTUAV
Source: Shenzhen JTT Technology Co.,Ltd.
Related Media