JTT Technology and Korean Partner Enter Strategic Business Alliance
Press Release
•
updated: Nov 29, 2017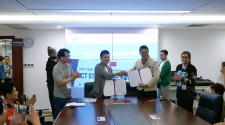 SHENZHEN, China, November 29, 2017 (Newswire.com) - On November 22, the Korean delegation arrived at Nanshan i- Park to visit JTT Technology Co., Ltd. for a technology exchange. It probes into the all-around exchanges in the fields of economy, culture and science between the two countries.
The first part of the exchange is flight demonstration. JTT technology showed the visitors an industrial drone series including T60V1, T60V2, T60 C and T70, equipped with a high-definition camera, 30x zoom camera, and loud-speaker. The flight demonstration of UAV impressed the visiting delegation so much that they took out their mobile phones and cameras for shooting and asked questions about the performance of UAV.
After the flight demonstration, the two companies signed a Strategic Cooperation Agreement. Together with our Korean partner, JTT will further expand into the Korean industrial UAV market, especially in surveying and mapping applications. JTT's outstanding performance left a good impression on the delegation. They hope to have more exchanges between the two countries and look forward to the future cooperation with JTT technology.
Contact Information
Shenzhen JTT Technology Co., Ltd.
Web: www.jttuav.com
Sales Contact: sdos10@jttuav.com
Business Cooperation: md04@jttuav.com
Tel: +86-755-86968648
Add: 6F, A5 Building, Nanshan i Park, No.1001 Xueyuan Avenue, Nanshan District, Shenzhen, Guangdong P.R.C
Facebook: https://www.facebook.com/jttuav
Twitter: https://twitter.com/JTTUAV
Source: Shenzhen JTT Technology Co., Ltd.
Related Media