JTT Rescue Drones Strikingly Showcased at Shenzhen International UAV Expo
Partners With Little Ripper (Australia) to Establish an International UAV Pilot Academy
Press Release
-
updated: Jun 29, 2017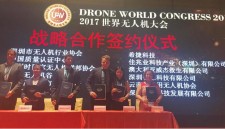 Shenzhen, China, June 29, 2017 (Newswire.com) - Co-organized by China UAV industry alliance and Shenzhen UAV industry association, Shenzen International Unmanned Aerial Vehicle Expo 2017 was held from June 23 to 25 at Hall 7 & 8, Shenzhen Convention & Exhibition Center. Currently, this is the largest UAV industrial expo in China which brings together the latest technological achievements from all over the world while providing a great opportunity for opening the regional market. 
More than 300 companies showcased their latest products during the expo, like the dark horse of the industry, JTT UAV, and other drone companies including DJI, Shenzhen GKXN UAV, AEE, MMCUAV, Art-tech, SMD-UAV, Hawa Technology, Hikvision, Dahua Technology, EWATT UAV. This drone blast has attracted thousands of drone professionals and enthusiasts around the globe. 
During the exhibition, JTT UAV demonstrated its UAV series and also unveiled its new products, T60c, T60 v series, T70 and multi-functional payloads equipment. The T60 V series rescue drones feature a 55-minute-long flight time; the ability to endure multifunctional payloads at a maximum of 4.5kg; and capability of transmitting HD images within 20 km. The high-end oriented rescue drones outshined its competitors at the show, attracting many eyes at flight area.
Little Ripper Life Saver has signed a partnership contract with JTT UAV and Shenzhen UAV Association regarding establishing a Drone Pilot Training Academy in Australia.
The UAV Academy will be established to serve the training needs of the rapidly growing unmanned aircraft industry through classroom and flight skills coaching for the professional UAV pilot. Our mission is to help drone pilots acquire the knowledge and skills needed to operate effectively, safely and legally by providing training that is professional, engaging and ultimately rewarding. The UAV academy drone pilot license will be issued by CASA. As one of the top drone training centers in Australia, Little Ripper will be training the pilot students gathered from JTTUAV and Shenzhen UAV Association.
This is not the first time that JTT cooperated with Little Ripper. JTT Technology has become the official partner of Surf Life Saving New South Wales, marine rescue association of Australia. Unlike traditional ground search and rescue, maritime SAR mostly operates in dangerous and difficult situations, which requires high standards from every aspect, such as search, salvage, rescue and escort. T60's outstanding performance makes it overcome the toughest challenges, and become a great helper in maritime search and rescue. 
T60 V series rescue drones' flight time of 55 minutes satisfies the need of nonstop work for a long time above the sea. A built-in long distance high-definition transmission device makes the maximum transmission distance reach up to 20 km, supporting multiple receiving points. In addition, the extensible airborne equipment such as infrared thermal device, HD zoom camera, first-aid packs enable T60 V series to give the first-time response and the best solutions when an emergency occurs.
This annual drone fiesta not only revealed the trend of drone industry in China but also demonstrated the outstanding achievements in UAVs and drone technology. As a leading enterprise in industrial drones, JTTUAV has a good start in booming the drone applications in various industries worldwide and will keep stunning at the global stage. 
About JTT
JTT Technology Co., LTD (JTT), established in January 2015, is a high-tech company specialized in research, development and manufacture of UAV. Our philosophies are Symbiosis & Innovation.  JTT integrated multi-rotor intelligent UAV are widely used in aerial surveillance, public security, search and rescue, environmental monitoring, agriculture, aerial photography and scientific investigation.           
Contact Information
Shenzhen JTT Technology Co., Ltd.
Web: www.jttuav.com
Facebook: https://www.facebook.com/jttuav
Twitter: https://twitter.com/JTTUAV
Sales Contact: sales@jttuav.com
Business Cooperation: md04@jttuav.com
Tel: +86-755-86968648  
Add: 6F, A5 Building, Nanshan i Park, No.1001 Xueyuan Avenue, Nanshan District, Shenzhen, Guangdong P.R.C.
Source: Shenzhen JTT Technology Co., ltd.
---
Categories: Business Technology
Tags: Industrial UAV, JTT Rescue Drones, JTT Showcased at International UAV Expo, JTT T60 Pro UAV
---