JOY Familytech Inc. Release Their New Octopus Watch Motion Edition Combo Kids' Smartwatch in North America
The first icon-based watch that empowers kids by teaching good habits and the concept of time, while also encouraging them to stay active
Press Release
-
updated: Nov 15, 2018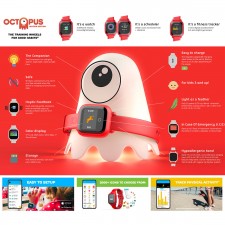 SAN FRANCISCO, November 15, 2018 (Newswire.com) - Coming off the heels of the immensely successful launch of the Octopus Watch, CES 2017 Tech Innovations Awards nomination and a 2018 Toy Insider Top Holiday Toys Award win, JOY Familytech is launching its new Octopus Watch Motion Edition Combo.  
JOY Familytech Inc. has created an AI (Artificial Intelligence) powered coaching platform using the first icon-based kids' smartwatch that teaches the concept of time and good habits. The new Octopus Watch Motion Edition Combo encourages healthy habits and motivates kids to stay active with its new fitness tracker.
 
Octopus Watch Motion Edition Highlights:
 
·         Suitable for kids 3-to-7 years of age
·         Octopus App features more than 1,500 colorful icons and easy schedule setup
·         Noise-free vibration sends kids gentle reminders
·         Tracks physical activity with its new motion sensor
·         Stores "In Case of Emergency" (ICE) information
 
The Octopus Watch has been the focus of several clinical studies which measure self-monitoring and a child's ability to initiate tasks without intervention. JOY has used this validated research to improve the Octopus Watch and expand their adaptive coaching platform.
 
The Octopus Watch Motion Edition Combo is available in red and blue and comes packaged with the Companion Nightlight Charging Station. This kids' smartwatch is sold on www.octopus.watch, Amazon.com, Nordstrom.com and Wellbots.com. It can also be purchased at Target stores nationwide.
About
JOY Familytech, the innovative brand behind the Octopus Watch, is run by a dedicated team with backgrounds in child development, engineering, business and communications. Their mission is to create amazing technology that promotes independence and self-esteem while also helping families spend more quality time together.
For product samples and/or business inquiries, contact Sam Hickmann, CEO at sam@heyjoy.io.
JOY Familytech Inc., 479 Jessie Street, San Francisco, CA 94103
Source: JOY Familytech
Share:
---
Categories: Educational Technology, Toys
Tags: children, education, habits, kids, positive discipline, routines, smartwatch
---