John Cheney's New Book, "Stations of the Cross: A Meditation" is a Meditative Work Composed of Commentaries and Photographs Depicting the Final Hours and Burial of Jesus.
Recent release "Stations of the Cross: A Meditation" from Covenant Books author John Cheney is a fascinating book that features photographs of a series of statues depicting the crucifixion and burial of Jesus Christ as well as commentaries on each station and suggestions to ponder about.
Press Release
-
updated: Jan 17, 2018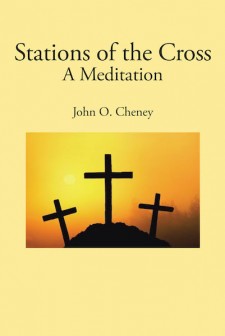 Richardson, TX, January 17, 2018 (Newswire.com) - John Cheney, a former radio system engineer and computer system software engineer who has completed two years of a five-year diocesan ordination course designed to serve as an alternative to a seminary, has completed his new book, "Stations of the Cross: A Meditation":  a contemplative book that tells about Jesus Christ—from his remaining hours to his burial—with photographs, commentaries, and suggestions.
John shares, "The bloodthirsty mob is howling. Jesus, having been kept up all night, mocked, beaten, flogged, jeered, and spat upon must have been seriously weakened. He has been bound to the heavy crossbeam and must now undertake that journey to Golgotha. Unhindered and in good health, even on the rough roads of the time, it was probably a ten-to-fifteen-minute walk. In his then-present condition, it would have been a miracle if he could have gone a hundred feet without stumbling. The guards were probably aware that a number of prisoners had faked falls to prolong their lives or get a little mercy. Their reaction would have been to jerk the prisoner to his feet. They could do this by brisk upward jerks of the crossbeam. If the fall was for real, so what, he was going to die anyway. If it was fake, he soon learned that that wasn't the way to do it."
Published by Covenant Books of Murrells Inlet, South Carolina, John Cheney's new book is an insightful and creative way of narrating Jesus Christ's plight during the remaining hours of his life on earth that readers will find easy and fun to contemplate on.
The commentaries are concise and well-written. A Roman soldier is used as a character to narrate and describe the events.
Readers can purchase "Stations of the Cross: A Meditation" at bookstores everywhere, or online at the Apple iTunes store, Kobo, Amazon or Barnes and Noble.
Covenant books is an international Christian owned and operated publishing house based in Murrells Inlet, South Carolina. Covenant Books specializes in all genres of work which appeal to the Christian market. For additional information or media inquiries, contact Covenant Books at 843-507-8373.
Source: Covenant Books
Share:
---
Categories: Books, Religion, Arts and Entertainment
Tags: "Stations of the Cross: A Meditation", authors, Covenant Books, John Cheney, Recent releases
---