Joey Iest Crowned 2019 Madera Speedway 51FIFTY Junior Late Model Champion
Press Release
•
updated: Oct 10, 2019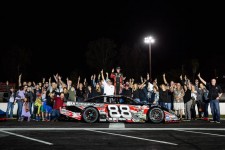 MADERA, Calif., October 10, 2019 (Newswire.com) - 16-year-old Madera California racer Joey Iest wrapped up the 2019 Madera Speedway 51FIFTY Jr. Late Model Championship this past Saturday night on the track's championship night. Iest drives for three-time Jr Late Model Championship team Naake-Klauer Motorsports. Iest finished his season with 5 wins, 2 seconds and 2 third place finishes in nine starts. The final race of the year saw two of its stars battle door to door for the win in a historic finish.
Iest started first and led the first 40 laps but then lost the lead on the restart after the midway break. Not being one to give up easily, Iest battled right back, and he and fellow competitor Seth Wise put on a thrilling side-by-side battle, swapping positions throughout the remainder of the event, pushing each other to drive as hard as they could. Iest finished second at the line by just .021 second in one of the most exciting races of the season and the closest finish in Madera Speedway history. Despite falling short at the finish line for the race win, the team was all smiles after the race because the 2019 season championship was theirs.
Before he could celebrate, he had another race to run. Over the course of the season, Iest had tested the water in the Pro Late Model division, preparing for a step up. Unlike the Jr. Late Model division, where all drivers are between the ages of 11 and 15, the Pro Late Model division features drivers of all ages and experience levels.
Iest had shown he was worthy prior to championship night with 1 win and 4 top ten finishes in 6 starts. But this was no regular Saturday night event. This was a 150-lap, $10,000 to win Nut-Up Short Track Shootout that saw 43 of the most competitive drivers attempt to qualify. Iest qualified 18th and set his strategy for the long race.
From the opening green flag, Joey was on the hammer, winding his way through the field methodically, passing his way to sixth place at the break. When the last 50-lap segment got underway, the determined young racer went back to work, battling his way into fourth inside of the final 20 laps. As the race wound down, he fell back a bit to a hard-fought seventh place finish, a strong performance to cap off an evening that saw him run 220 laps of competitive racing and wind up with a second, a seventh and, most importantly, a track championship.
It was finally time to celebrate, and Joey was excited as he began to process what he and the team had accomplished. "I am very thankful for the opportunity that has been provided to me to drive such great equipment and an amazing team that has supported me all year. I also want to thank my sponsors, track promoter Kenny Shepherd and his amazing staff, and my parents for making all this possible, and finally the good Lord above for keeping all of us safe and I can't wait till the 2020 season starts."
Naake-Klauer Motorsports co-owner Mike Naake had high praise for the rising talent. "Joey has improved so much in 2019. That was not the case in 2018, we struggled with staying out of trouble and was always in the wrong place at the wrong time. In 2019, after the February test, he found his switch and from then on, he has improved every time we were at the track. He also got a chance to test our SRL car and did an outstanding job. We are very excited about 2020 for Joey."
Madera Speedway Track Owner Kenny Shepherd added to Naake's input. "Joey Iest may very well be the most talented young driver we have seen in our 51FIFTY Jr Late Model program, he is also what the sport needs when it comes to respect and kindness from our youth."
Follow Joey:
Website: https://joeyiestracing.com
Facebook: https://www.facebook.com/Joey-Iest-Racing
Instagram: https://www.instagram.com/joey_iest_racing
Media/Sponsorship Contact:
Rod Wortham – Race Face Brand Development
Email: Rod@racefacebd.com • Ph: (727) 999-2628
Source: Race Face Brand Development on behalf of Joey Iest Racing