Jenny McKinney's New Book "Tully and Mr. Shaker's Britches" is a Fun Children's Story About a Brave Young Bird Who Constantly Gets Into Mischief.
"Tully and Mr. Shaker's Britches" from author Jenny McKinney is a playful story about Tully, a young robin who loves to daydream, think up schemes, and routinely disobeys her mother, or just forgets to use her common sense—until one day she flies too close to Whiskers the cat, and in her attempt to escape, gets herself tangled up in a pair of Mr. Shaker's britches on the clothesline.
Press Release
-
updated: Oct 8, 2018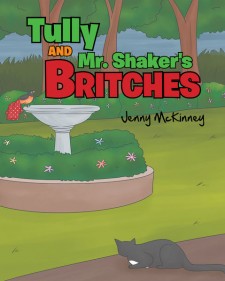 Casper, WY, October 8, 2018 (Newswire.com) - Jenny McKinney, an author and developmental disabilities case manager who lives in Wyoming with her husband, daughter, and their three terriers, has completed her new book, "Tully and Mr. Shaker's Britches":  a charming story about a young robin who gets into mischief—and into a pair of britches.
Jenny shares from her book, "'Tully!'
I heard my mom calling me, but I was too busy looking at the worm crawling on the sidewalk. The rain was steadily falling on my new feathers and splashing me in the face.
'Tully!'
I heard Mom's voice again, only this time it was closer and more insistent. I looked up to see my mom standing over me.
'What are you doing, sweet little girl? Why did you not answer me when I was calling you?'
My mom looked at my treasured worm squirming on the wet sidewalk. 'I'm watching the worm, Mom.'
'Tully, I've told you time and again not to play with your food. It's time to come inside out of the rain. You are the only robin I know that likes to sit in the rain.' Mom put her wing around me and ushered me home.
We arrived at our cozy little nest in the blue spruce tree of Mr. Shaker's yard. We were hidden from the outside world just enough to fool the neighboring raccoons.
'Tully,' Mom chirped.
I didn't notice that she was attempting to get my attention. I was busy daydreaming of the rainy day.
'Tully!' my mom screeched."
Published by Covenant Books of Murrells Inlet, South Carolina, Jenny McKinney's new book is a lively story that will spark the imagination of young children who can relate with Tully's sense of adventure.
Join Tully as she flies into trouble and tries to fly out again!
Readers can purchase "Tully and Mr. Shaker's Britches" at bookstores everywhere, or online at the Apple iTunes store, Amazon, or Barnes and Noble.
Covenant books is an international Christian owned and operated publishing house based in Murrells Inlet, South Carolina. Covenant Books specializes in all genres of work which appeal to the Christian market. For additional information or media inquiries, contact Covenant Books at 843-507-8373.
Source: Covenant Books
---
Categories: Books
Tags: "Tully and Mr. Shaker's Britches", Covenant Books, Jenny McKinney
---