January 29-30: Crypto Pro Expo 2019 @ the Hyatt Regency San Francisco - Attend the Country's Highest Quality Blockchain Event
Press Release
-
updated: Jan 3, 2019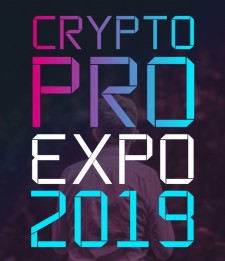 SAN FRANCISCO, January 3, 2019 (Newswire.com) - After the raving success of Crypto Pro Miami Art Week last December at the Fontainebleau, Crypto Pro Events has returned to discuss their most ambitious event yet: CRYPTO PRO EXPO 2019. Crypto Pro Expo 2019 is THE event to attend for all professionals in and around the blockchain and cryptocurrency industries. Crypto Pro Expo is to take place at the Hyatt Regency San Francisco on January 29 and 30, 2019. The conference consists of four content tracks spanning two full days, with each day specifically dedicated to cryptocurrency and blockchain technology respectively.
At only six weeks away, CRYPTO PRO EXPO 2019 has the highest attendance of investors interested in cryptocurrency and blockchain technology on record of any blockchain conference. CRYPTO PRO EXPO 2019 in San Francisco will host professional, focused content; a non-endemic audience; and countless investors ready to sign a check. Due to the sheer volume of content unfolding during the conference, the organizers advise mixing and matching content to create one's ideal blockchain conference experience.
The four content tracks on the Crypto Pro Expo 2019 agenda include Keynote Panels, Breakout Roundtables, All-Day Pitch Stage, and Exhibition Booths. The Keynote Panels will be led by 50+ of the most engaging leaders in investment, startup, cryptocurrencies, and blockchain technology to bring the most curated and up-to-date content professionals in the industry crave. Breakout Roundtables are a more interactive session of conversations, guided by respected thought leaders to tackle some of the industries biggest concerns and topics. The All-Day Pitch Stage will be open for both days of the conference, and the hottest blockchain and cryptocurrency startups will be pitching to the largest captive audience of family offices, funds, alternative asset managers, and investors who have ever attended a blockchain conference.
The Exhibition Booth track is an exciting cross-section of the industry; where over a hundred different companies, startups, and service providers will be on the floor, showing off their newly created technologies and latest developments. As Crypto Pro 2019 will be attracting more than 3,000 of the best and brightest minds in the industry, it is a rare opportunity for companies, legal firms, financial institutions, or software providers to present their ideas to the conference. Alongside the attendees and investors, Crypto Pro Expo 2019 is partnered with some of the most prominent and important organizations in the industry, including the preeminent industry association, the United States Blockchain and Cryptocurrency Association (USBCA) – the first and only 501c6 trade organization with lobbying efforts in Washington to represent industry-wide concerns at the legislative and regulatory levels. For those interested in Exhibiting, explore the options on the Crypto Pro Expo 2019 website.
Free tickets will be made available for members of Blockchain & Beers, a decentralized community and social group for individuals with a passion for blockchain. Blockchain & Beers' first San Francisco gathering will run concurrently with Crypto Pro EXPO 2019 on Jan. 29, at the Hyatt Regency San Francisco. RSVP for Blockchain and Beer's San Francisco Meetup here for free access to the two full days of Crypto Pro EXPO 2019.
Crypto Pro Expo 2019 isn't the largest blockchain event in the country, but it is certainly the highest quality blockchain event in the country. Head over to the Crypto Pro Expo 2019 site to purchase tickets and more.
###
About Crypto Pro
Crypto Pro events are the leading conferences for investors interested in crypto assets and blockchain technologies. Crypto Pro events were founded as an answer to the three fatal errors of other Blockchain and Crypto Events: the endemic audience, unfocused content, and an absence of investors. The foundation of Crypto Pro is in its three pillars: the presence of industry experts and thought leaders, panels and keynote speakers with a wealth of experience and success behind them, and a network of ultra-high-net-worth individuals. With deep roots in the blockchain and investment communities, the founders behind Crypto Pro cultivate events with one purpose in mind: To create the ideal environment where fintech/blockchain professionals have the opportunity to engage investors who are ready to write a check.
For media inquiries, please contact Bobby Keough at press@cryptoproevents.com
For sponsorship inquiries, please contact Geoff Marcus at sponsors@cryptoproevents.com
###
Source: Crypto Pro Expo 2019
Share:
---
Categories: Cryptocurrency
Tags: bitcoin, blockchain, blockchain & beers, crypto pro, crypto pro expo 2019, cryptocurrency, event, fintech, hyatt regency san francisco, january 29, meetup, san francisco
---