Crypto Pro EXPO 2019 Moves to Spring/Summer Date to Expand Event
Press Release
-
updated: Jan 15, 2019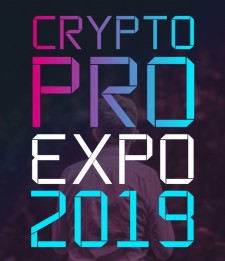 SAN FRANCISCO, January 15, 2019 (Newswire.com) - In lieu of new developments, organizers of Crypto Pro Expo 2019, have decided to postpone the two-day event to Spring/Summer this year in order to expand and deepen the content offering of the highly-anticipated event. CRYPTO PRO EXPO 2019 is THE event to attend for all professionals in and around the blockchain and cryptocurrency industries. The conference will include four content tracks spanning two full days, with each day dedicated explicitly to cryptocurrency and blockchain technology. For those interested in Exhibiting later this year at Crypto Pro Expo, explore the options on the Crypto Pro Expo 2019 website.
"In order to significantly elevate the attendee's experience at Crypto Pro Expo this year and create something extraordinary, our team needed to move the date to accommodate new components, content, and partners. My team and I are more excited than ever for this year's Crypto Pro Expo two-day conference," says Founder, Peter Sinkevich. "We will be announcing new dates and the exciting new features in the coming weeks."
CRYPTO PRO EXPO 2019 remains partners with the industry's most prominent and influential organizations, including the preeminent industry association, the United States Blockchain and Cryptocurrency Association (USBCA) – the first and only 501c6 trade organization with lobbying efforts in Washington to represent industry-wide concerns at the legislative and regulatory levels.
Free tickets will be made available for members of Blockchain & Beers, a decentralized community and social group for individuals with a passion for blockchain. Blockchain & Beers' first San Francisco gathering was planned to run concurrently with Crypto Pro EXPO 2019 on Jan. 29, at the Hyatt Regency San Francisco. While the Crypto Pro Expo will be moved, Blockchain & Beers will post future updates on its website. Despite the date change, RSVP for Blockchain and Beer's San Francisco Meetup here for free access to the two full days of Crypto Pro EXPO 2019 at its future date.
Crypto Pro Expo 2019 isn't the largest blockchain event in the country, but it is certainly the highest quality blockchain event in the country. Bookmark the Crypto Pro Expo 2019 site to purchase tickets and for future announcements.
###
About Crypto Pro
Crypto Pro events are the leading conferences for investors interested in crypto assets and blockchain technologies. Crypto Pro events were founded as an answer to the three fatal errors of other Blockchain and Crypto Events: the endemic audience, unfocused content, and an absence of investors. The foundation of Crypto Pro is in its three pillars: the presence of industry experts and thought leaders, panels and keynote speakers with a wealth of experience and success behind them, and a network of ultra-high-net-worth individuals. With deep roots in the blockchain and investment communities, the founders behind Crypto Pro cultivate events with one purpose in mind: To create the ideal environment where fintech/blockchain professionals have the opportunity to engage investors who are ready to write a check.
For media inquiries, please contact Bobby Keough at press@cryptoproevents.com
For sponsorship inquiries, please contact Geoff Marcus at sponsors@cryptoproevents.com
###
Source: Crypto Pro Expo 2019
Share:
---
Categories: Cryptocurrency
Tags: bitcoin, blockchain, blockchain & beers, crypto pro, crypto pro expo 2019, cryptocurrency, event, fintech, hyatt regency san francisco, january 29, meetup, san francisco
---