Art Basel Becomes Massive Success and Proof of Concept for the Crypto Pro Event Series as They Turn to Flagship Event in San Francisco Next Month
Press Release
-
updated: Dec 14, 2018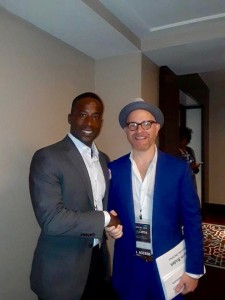 NEW YORK, December 14, 2018 (Newswire.com) - This year's Art Basel Miami Beach was awash with blockchain hopes and dreams — nearly a dozen different events showcased conversations, panels or speakers on the topic.
Crypto Pro Miami Art Week was an incredible success and a standout from other events with what began as a simple promo party for their flagship and much larger Crypto Pro Expo January 29-30 next year at the Hyatt Regency San Francisco. Crypto Pro Founder Peter Sinkevich initially expected the Miami Art Week event to be an outdoor oceanfront party on the Fontainebleau's Ocean Lawn, but by-demand, it grew to a full day of seven panels with two smaller events-within-an-event hosting the Family Office Association and ALTS Capital, each with their own respective agendas, a keynote address by Brian Kelly who is a regular contributor on CNBC's "Fast Money," as well as a private cocktail hour in addition to the Ocean Lawn party.
"We only originally planned the event for 100 curated attendees and that target ballooned to 500 ultimately, and by the morning of the event 800 attendees had received tickets, an oversubscription of 60 percent," says Crypto Pro Founder Peter Sinkevich. "Even a week later I am still receiving heartfelt thank you's for putting together this event, how numerous attendees and special guests made many valuable, new relationships aside from the very high quality and educational panel discussions. We consider this a massive success and proof of our concept, setting us apart from typical events in our space. We are anxious to begin planning next year's event bigger, better and even more valuable alongside the vibrant and burgeoning Miami blockchain community," he goes on to say.
In addition to the massive turnout, CNBC's "Crypto Trader" network television show was on-hand all day filming and interviewing organizers, speakers, and attendees among the numerous other press and media capturing the magic throughout the day.
The highlighted panel of the event was the "Intersection of Art, Blockchain and Cryptocurrency." This garnered the most attention and positive response for the diversity of the panelists to the nature of the conversation it created, touching on what the art world's challenges have historically been, and how blockchain and more broadly DLT technology along with cryptocurrencies can solve or even improve art transactions, artist's needs, galleries pain points and the overall valuation and provenance of art in general.
When talking about most blockchain projects who are creating problems for their solutions, Olive Allen a speaker at Crypto Pro Miami Art Week, the upcoming Crypto Pro Expo artist and Founder of Decadent Inc., she remarked, "While art for art's sake is a thing, let's not create tech for tech's sake - it is the road to nowhere."
With the first Crypto Pro event a success and in the history books, Founder and organizer Peter Sinkevich along with his team turn their focus to their next event, the flagship Crypto Pro Expo 2019 in San Francisco, and the upcoming third event in their annual event lineup during New York Blockchain Week in May of next year.
Crypto Pro Expo 2019 builds on the momentum and smashing success of Art Basel Miami Beach with deeper content, a more expansive speaker and keynote lineup, and an even greater audience expected to be nearly four times the size of Miami, or roughly 3000 attendees spread out over two days.
The event series continues to leverage on its now proven model that consists of three main pillars: non-endemic audience, highly curated and focused content combined with unprecedented reach and attendance from investors across the spectrum of investment professionals interested and already deploying capital in DLT, the blockchain, and cryptocurrency assets.
Crypto Pro Expo will feature four main content tracks to provide attendees the ability to mix-and-match what suits them best in an effort to deliver maximum value for their participation. Running concurrently, the tracks include an Exhibition Floor with more than 50 companies showcasing their best, an all-day pitch stage both days with remarkable founding teams pitching an audience of investors, panel discussions and keynote addresses throughout both days. Breakout Roundtable discussions provide attendees an opportunity to further the dialog around panels, have new conversations not heard during the conference, or engage with other attendees on topics of high interest.
###
About Crypto Pro
Crypto Pro events are the leading conferences for investors interested in crypto assets and blockchain technologies. Crypto Pro events were founded as an answer to the three fatal errors of other Blockchain and Crypto Events: the endemic audience, unfocused content, and an absence of investors. The foundation of Crypto Pro is in its three pillars: the presence of industry experts and thought leaders, panels and keynote speakers with a wealth of experience and success behind them, and a network of ultra-high-net-worth individuals. With deep roots in the blockchain and investment communities, the founders behind Crypto Pro cultivate events with one purpose in mind: To create the ideal environment where fintech/blockchain professionals have the opportunity to engage investors who are ready to write a check.
For media inquiries, please contact Bobby Keough at press@cryptoproevents.com
For sponsorship inquiries, please contact Geoff Marcus at sponsors@cryptoproevents.com
###
Source: Crypto Pro Events
---
Categories: Cryptocurrency
Tags: art basel miami, art week, blockchain, capital, crypto pro, cryptocurrency, family offices association, investment, investor, miami, miami art week 2018
---