Jan Morgan's New Book "Sweet Grass Memories: The House That Became a Bridge" is the Intriguing Story of a Mysterious Old House That Forms a Haven for Despondent Children.
"Sweet Grass Memories: The House That Became a Bridge" from Jan Morgan is a true story featuring a mysterious house in Texas and the marginalized children living across the street who come to believe it is theirs, until a "For Sale" sign is placed amid its front-yard weeds and two retired ladies find themselves knee deep in clues as they attempt to solve the puzzle at the heart of its magic.
Press Release
-
updated: Jun 8, 2018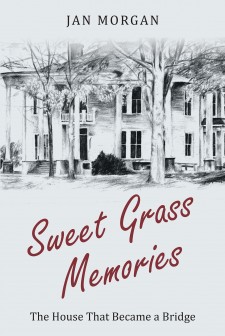 Bedford, TX, June 8, 2018 (Newswire.com) - Jan Morgan, a retired school administrator living in Bedford, Texas, with her two Scottish terriers and her husband, with whom she has cofounded Bridges Work to help impoverished children, has completed her new book, "Sweet Grass Memories: The House That Became a Bridge":  a captivating story of a mysterious rundown house for sale and the two retired women who puzzle out its significance.
Jan shares, "I am sixty-six years old, retired, and as far as I know, healthy. What is more important, however, is that I think I finally know what I want to do with my life. Years ago, if someone had asked me whether or not a story about a despondent old house that seems to communicate with selected individuals; several disenfranchised kids who want to believe in themselves but aren't exactly sure how; a poignant tale of star-crossed love during World War II; and two retired ladies, one black and one white, struggling to unearth their purposes in life before it is too late was more fact than fiction, I clearly would have replied 'fiction.' The problem is that the story is mine, and it is true."
Published by Covenant Books of Murrells Inlet, South Carolina, Jan Morgan's new book is a compelling hodgepodge of clues, newspaper clippings, love letters from WWII, sea shells, and other debris of the sea that weave together in an unforgettable narrative.
In many ways a historical biography of a house, Morgan's story is also a portrait of hope and dreams that answers the question of what makes a "home."
Readers can purchase "Sweet Grass Memories: The House That Became a Bridge" at bookstores everywhere, or online at the Apple iTunes store, Amazon, or Barnes and Noble.
Covenant books is an international Christian owned and operated publishing house based in Murrells Inlet, South Carolina. Covenant Books specializes in all genres of work which appeal to the Christian market. For additional information or media inquiries, contact Covenant Books at 843-507-8373.
Source: Covenant Books
---
Categories: Books
Tags: "Sweet Grass Memories: The House That Became a Bridge", Covenant Books, Jan Morgan
---