Jamie Geller Announces Fresh Families - a Healthy Meal Plan for the Whole Family
Kosher Network International Highlights Kid-Focused Healthy Eating
Press Release
-
updated: Jan 9, 2018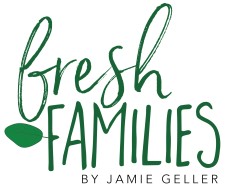 JACKSONVILLE, Fla., January 9, 2018 (Newswire.com) - While healthy food choices continue to dominate grocery store shelves and restaurant menus, Kosher Network International has noticed that 2018's number one food trend isn't a product. According to Innova Market Insights, mindfulness tops the list for food trends this year[1] and is the focus of Fresh Families, freshfamilies.us, the latest meal plan offering from lifestyle and food expert Jamie Geller.
Fresh Families is a meal plan that centers on mindfulness: a conscious awareness of what you're eating – specific whole foods and meals with specific calorie counts – without the burden of tracking. Every recipe uses 10 ingredients or less and has under 30 minutes of prep time. Each day is easily mapped out, focuses on specific chosen proteins, fruits, vegetables and grains, and uses under 1,100 calories for adults, but there are no calorie restrictions for children. Accompanying the meal plan is a weekly shopping list, tips and tricks for getting dinner to the table quickly and in-home activities to incentivize kids to try new foods.
"The difference between Fresh Families and other healthy meal plans," says Geller, "is that the entire meal plan was created with kids in mind." Kid favorites — such as pizza, macaroni & cheese, burgers and even taco night — are all recreated in healthier versions that kids will love. "One of my personal favorites is the chicken strips," continues Geller. "We used a quinoa coating that, when baked in the oven, actually looks and tastes like the chicken nuggets kids are used to. And not one of my kids hesitated to try!
"We all want to feed our children healthy foods, but sometimes our schedules don't allow time for a full kitchen prep," says Geller. As a mother of six, Jamie has always struggled with time in the kitchen versus time with family. So she partnered with her dietician Tamar Genger, M.A., R.D., to create Fresh Families.
Genger earned her B.S. degree at the University of Maryland, then continued on to her Masters of Health Studies at the University of Alabama. The Fresh Families program starts with "Fresh Start" — a two-week program designed by Genger to reset your body into a healthy rhythm.
According to the Centers for Disease Control and Prevention, childhood obesity rates have tripled over the last 30 years, making kids vulnerable to lifelong, debilitating diseases like Type 2 diabetes, high blood pressure and asthma.[2] With an emphasis on healthy family meals through Fresh Families, children are exposed to nutritious alternatives of their favorite foods that feature whole grains, vegetables and lean meats. "Many people don't realize that a healthy lifestyle is an easy daily choice," says Genger. "Only a few swap outs to your normal shopping list are needed."
Online support is included in the program, creating a full community feel. Geller sums it up: "Fresh Families is not a diet plan. It is not your typical meal plan. It is not a weight loss plan, although I and our members did record weight loss. It is a lifestyle plan that works for busy working moms, busy working dads and over-programmed kids. Together, we can start to turn around the statistics and give our kids a healthier future."
About KNi
Kosher Network International (KNi) is a cross-platform, global network for food, recipes, news and entertainment that influences more than one million consumers every day.
Led by world-renowned Jewish food and lifestyle personality Jamie Geller, KNi uses multiple distribution platforms – including digital, print, mobile, social, books, video, PR and live events – to provide kosher consumers with the content they want, when they want it and how they want it, and to deliver the messages and sales-driving goals of its marketing and merchandising partners.
KNI's media division reaches a multi-channel audience of highly engaged and discerning family-focused moms through its "Jamie Geller" brand, which features JOYofKOSHER.com – the #1 kosher food and recipe website in the world. The media division is the leader in developing and delivering custom content that spans all marketing channels – from advertising to integrated product videos to events – for many of the world's top brands, including Colavita, Nestle, Unilever, Hilton Worldwide, Reckitt Benckiser, Straus and Wakefern Food Corp.
Press Contact: Deborah Shapiro; deborahshapiro@koshernetwork.com; 904-580-7050 x108
[1] https://www.forbes.com/sites/phillempert/2017/12/13/10-food-trends-that-will-shape-2018/#5196b5624104
[2] https://www.cdc.gov/healthyschools/obesity/facts.htm
Source: Kosher Network International
Share:
---
Categories: Food and Beverage Manufacturing, Dieticians and Nutritionists, Family
Tags: childhood obesity, diet, family, food trends, fresh, Health, healthy eating, Kids, Meal Plan, recipes, whole foods
---
Related Files
Additional Links