Jack Uldrich to Teach "How to Think Like a Futurist"
Global futurist and change agent Jack Uldrich to begin offering an on-line course called, "How to think Like a Futurist."
Press Release
-
updated: Jan 24, 2017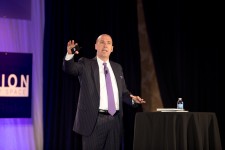 Minneapolis, MN, January 24, 2017 (Newswire.com) - Who helps people see what they are not seeing, identify trends that may have escaped notice and challenge long-standing assumptions? Futurists do.
Futurist, best-selling author and widely acclaimed public speaker Jack Uldrich, is making it his mission to help organizations to think like he does, in other words, to "think like a futurist."
Uldrich says, "The average lifespan of a Fortune 1000 company is 15 years--and dropping." Why is this happening? Uldrich responds, "It's because companies are so focused on today's issues, they fail to appreciate how the world of tomorrow is changing."
In his speaking engagements, Uldrich often sites the ancient Chinese philosopher Lao Tzu, "To attain knowledge, add things every day. To attain wisdom, remove things every day."
Taking that idea a step further, Uldrich says, "Smart companies hire futurists to survive. Wise companies learn how to think like a futurist and instill a "future mindset" throughout their organization."
To this end, Uldrich has created an interactive, engaging and educational seminar where he instructs the viewers on how "think like a futurist" and "future-proof" themselves and their organization in the process.
The on-line workshop focuses on understanding the trends transforming the world of tomorrow and increasing awareness of what is coming next ahead your competitors. It also helps develop an appreciation for both why humility is critical in navigating the uncharted waters of tomorrow and why unlearning will be as important as learning in the future. 
"Learning how to take action in the face of uncertainty, ambiguity, and rapidly changing conditions are critical to every organization's success," says Uldrich. 
Lastly, he says, "The most important aspect of this entire seminar is that people who take it will begin adopting the mindset and acquiring the tools to start creating the future themselves."
That sounds like a truly wise idea.
For more information on Jack Uldrich and his new seminar, "How to think Like a Futurist" please visit his website.
Source: Jack Uldrich & The School of Unlearning
Share:
---
Categories: Funding, Educational Technology, Conventions, Trade Shows, Meetings and Events, Online Programs, Agents and Representation
Tags: education, events, Futurist, learning, Seminars
---