Jack Uldrich to 'Deconstruct the Future of the Infrastructure Industry' Today in Forida
Press Release
•
updated: Nov 17, 2016
Futurist Jack Uldrich will deliver a keynote address to an industry-leading, privately held utility construction and engineering contractor, today in Orlando.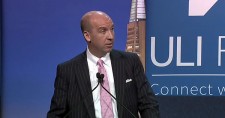 Orlando, FL, November 17, 2016 (Newswire.com) - Engineering and connecting the world's strongest utility infrastructure networks takes grit and foresight.
Global futurist and author, Jack Uldrich, aims to help engineers and business leaders in the industry, who are gathering today in Orlando, gain insights into the new trends that will shift the sector in the coming years.
Uldrich will deliver a keynote focused on the game-changing technologies that will influence the construction and infrastructure industry in the coming years.
His talk with touch on Sensors, Nanotechnology, Big Data, drones, AI, the Internet of Things, 3D printing, self-healing concrete and robotics each of which is transforming the industry at an exponential pace.
In October, Uldrich addressed the Urban Land Institute in San Francisco.
According to ULI, "Technologically driven change could create both opportunities and peril. Figuring out how to adapt to it will be a major challenge for developers, architects, builders, and property managers who must work with large, capital-intensive assets that take years to conceive and build, and which are expected to have vastly longer life cycles than the latest consumer electronics gadgetry or social trends."
That is why forecasters, like Uldrich, "caution against betting heavily on any particular technology and instead advocate the use of 'future-proofing' plans providing enough flexibility to adjust to whatever is to come."
When it comes to those adjustments, Uldrich is an advocate of "unlearning." As the founder "The School of Unlearning" Uldrich often blends the concept into his keynotes on top technological trends.
In his writings on unlearning, Uldrich quotes Richard Feynman, the Nobel-prize winning physicist, who uttered these wise words, "The first principle is that you must not fool yourself, and you are the easiest person to fool." Feynman also kept "a notebook of things I don't know."
One way to remain open to the need for unlearning, suggests Uldrich, is similarly, to keep a journal on ways you have been fooled. If you're more daring, he says, "you may even wish to label it 'a notebook of how I have fooled myself.'"
Following his keynote in Orlando today, Uldrich will address return to Orlando on November 30th to deliver a keynote to Watts Water on how the Internet of Things will transform the water industry.
Parties wishing to contact Jack Uldrich or learn more about his keynotes and writing may do so here.
Source: Jack Uldrich & The School of Unlearning
Related Media