IVC Filter Litigation Continues to Grow
Press Release
•
Dec 22, 2015
The makers of inferior vena cava (IVC) filters like Cook Medical's Celect and Gunther Tulip filters and C.R. Bard's Recovery and G2 filters face a growing number of product liability lawsuits brought on behalf of patients across the country who were implanted with the filters to reduce their risk of blood clots and pulmonary embolism, and suffered severe complications like filter migration, perforation of the vena cava and filter embolization.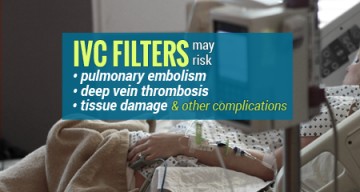 San Diego, CA, December 22, 2015 (Newswire.com) - For individuals that received an IVC filter in the past, and have since suffered a serious side effect like filter fracture, a punctured vena cava, or migration of the device to other parts of the body, it is recommended that they consult a knowledgeable IVC filter lawyer to explore legal options.
Possible Side Effects of IVC Filters
IVC filters, also known as blood clot filters, are designed to be implanted in the inferior vena cava, the large vein that carries deoxygenated blood into the heart, to trap blood clots that may break free within the body, and prevent them from traveling to the lungs and causing a pulmonary embolism. However, a number of retrievable IVC filters manufactured by C.R. Bard and Cook Medical have been tied to reports of serious and sometimes fatal complications, including instances where the blood clot filters migrated out of position and punctured the vena cava, or fractured and sent small fragments of the filter to the heart or lungs (embolization).
IVC Filter Lawsuits
As IVC filter recipients across the country learn that their injuries may have been caused by defects in the design of the medical devices, a growing number are pursuing legal claims against Bard, Cook Medical, and other filter manufacturers, alleging that the companies failed to provide the public with adequate warnings about the risk of IVC filter side effects. All of the product liability lawsuits involve similar allegations that the IVC filters are defective and unreasonably dangerous, and put patients at risk for serious and potentially life-threatening complications like filter fracture, filter migration and perforation of the vena cava.
All product liability lawsuits filed over complications from the Cook Celect and Gunther Tulip IVC filters have been centralized before U.S. District Judge Richard L. Young in the Southern District of Indiana, and all Bard IVC filter complaints have been centralized before U.S. District Judge David G. Campbell in the District of Arizona. In one of the more recent lawsuits, filed on December 14, a woman from New York alleges that her Bard G2 IVC filter migrated out of position and fractured, causing severe pain in her abdomen and lower back. She underwent a major operation to remove the broken filter, and may require additional surgical procedures in the future.
Bard Knew About IVC Filter Problems
Although C.R. Bard, Cook Medical and other IVC filter manufacturers have marketed their devices as a safe and effective means of preventing blood clots from traveling to the lungs and causing pulmonary emboli, a number of studies have linked the use of IVC filters to an increased risk of serious complications. In a study published in the Archives of Internal Medicine in 2010, researchers discovered that filter fracture and device embolization were common problems affecting patients implanted with IVC filters manufactured by C.R. Bard. Even more alarming is information indicating that Bard likely knew about the problems with its filters, but chose to withhold these concerns from the public.
A Qualified Product Liability Lawyer Can Help
Medical devices like IVC filters are intended to protect patients at risk for certain medical conditions from serious harm, but some devices and implants may actually expose patients to additional complications, due to alleged defects in their design. If you or a loved one has suffered devastating side effects allegedly caused by a blood clot filter, contact a reputable product liability lawyer today for legal help. You may have grounds to file an IVC filter lawsuit against the device manufacturing company, in order to pursue the financial compensation you deserve for your injuries, medical expenses, and emotional trauma.'
Get a Free IVC Filter case review
Individuals that received an IVC filter and have suffered from a related injury can get a free case review by visiting the IVC Filter Lawsuit Help Center or call 888-733-9229
Related Media
Additional Links