Is Communal Housing Becoming Popular Because of Student Loans Wonders Ameritech Financial Benefits Center
Press Release
-
updated: Oct 22, 2018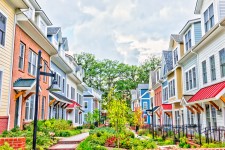 EMERYVILLE, Calif., October 22, 2018 (Newswire.com) - Times are tough for the middle and lower classes in America. Affording things like healthcare, rent, bills and student loan repayment is costing more money than many have. Student loans are often listed as people's top concern, leaving affording housing as something to worry about at another point. American Financial Benefits Center (AFBC), a document preparation service company that has helped many struggling student loan borrowers apply for federal repayment programs, says that the upswing in the desire for communal housing is likely tied closely to the student loan crisis.
"It's been a long time since the one-third rule about how much housing should cost someone has been realistically possible for many Americans," said Sara Molina, manager at AFBC. In metropolitan areas, where large amounts of people congregate together, it's expected that there will be large amounts of housing to accommodate them. Ideally, even large amounts of affordable housing, because for businesses to run they'll need employees. But ideals haven't been held up in a while.
Landlords charge increasingly high rates with often unlimited power to do so because of lack of rent control laws. In California, with a rent control proposition on the ballot, Blackstone has spent close to $7 million on campaign funding to make sure it doesn't pass. In a state that already struggles with a lack of housing for the massive amount of people it holds, having constantly climbing rent rates is something most can't afford. And when individuals can't afford to have a mortgage on top of student loans, there's no chance to buy a house either to escape predatory landlords.
Communal housing and living situations are something that more people, especially millennials and Gen Z, are talking about. Part of it certainly comes from an inability to afford housing otherwise. A large house filled with people who get along well together and have a strong bond is a vastly different situation than having to be stuck with random roommates. Having a plot of land with several tiny houses on it is something spoken about, too. People may wonder if it's only based around the idea of more affordability or a counter-culture response to how single-unit American families are seen as the ideal. Would the desire for this kind of housing drop if more people could afford to live on their own?
Whatever the reasoning, communal housing is gaining momentum in popularity. Maybe people would still be interested in grouped living with loved ones even if they could afford better due to a shrinking sense of community with one another. AFBC has helped thousands of student loan borrowers apply for federal income-driven repayment programs that have potentially lowered their monthly payment and gotten them on track for student loan forgiveness in 20-25 years of being in the program. That way, borrowers are freer to choose how they want to live their life, rather than be strictly dictated by desperation based off of repayment. "We strongly believe that student loan repayment shouldn't have to be a struggle. That's why we're so dedicated to helping our clients and being a student loan advocate," said Molina.
About American Financial Benefits Center
American Financial Benefits Center is a document preparation company that helps clients apply for federal student loan repayment plans that fit their personal financial and student loan situation. Through its strict customer service guidelines, the company strives for the highest levels of honesty and integrity.
Each AFBC telephone representative has received the Certified Student Loan Professional certification through the International Association of Professional Debt Arbitrators (IAPDA).
American Financial Benefits Center Newsroom
Contact
To learn more about American Financial Benefits Center, please contact:
American Financial Benefits Center
1900 Powell Street #600
Emeryville, CA 94608
1-800-488-1490
info@afbcenter.com
Source: American Financial Benefits Center
---
Categories: Financial News, Financing and Student Loans
Tags: communal housing, housing, income-driven repayment, student debt, student loan repayment, student loans
---