iPatientAxis, Inc. Announces Expansion to Europe
iPatientAxis EU, a Subsidiary of New York-Based iPatientAxis, Inc. is Now Open with Headquarters Located in Dublin, Ireland
Press Release
-
updated: Aug 6, 2019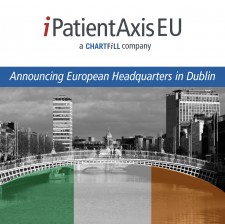 DUBLIN, August 6, 2019 (Newswire.com) - iPatientAxis, the New York-based leader in Global clinical trial medical record aggregation, analytics and pre-validation services, announced today the establishment of iPatientAxis EU, a wholly-owned subsidiary of iPatientAxis, Inc. As of this press release, iPatientAxis has acquired access to over 40,000,000 unique patient lives globally, roughly 60% inside the U.S. and 40% outside the U.S.; which puts iPatientAxis in a great position to support global clinical trial identification, recruitment and retention.
Since inception, iPatientAxis, Inc. has been working extensively in the European Union. Given its wide-ranging partnerships, both established and in development, iPatientAxis has made the decision to move forward with establishing a Dublin-based European Subsidiary. iPatientAxis EU will continue to partner with patient recruitment organizations, pharmaceutical companies, hospitals and clinical trial sites to streamline clinical trial processes using state-of-the-art technology, while strengthening their global presence.
The iPatientAxis Executive Team has vast global industry experience and is looking forward to expanding the company's reach. 
"Embracing the growth of the pharmaceutical and biotech market in Ireland, and acknowledging the quality of resources available in Dublin, it was a natural selection for our first brick and mortar EU location," explained Ann Dokus, iPatientAxis' Chief Information Officer. "With industry giants Pfizer, Novartis, ICON, plc and others with substantial in-country presence, as well as an array of patient recruitment partners and up-and-coming biopharma and medical device companies, it's the right time for our company to expand our physical footprint. We'll continue to support partners across the EU and around the globe and look forward to additional site announcements in the near future."
About iPatientAxis 
iPatientAxis is the global leader in clinical trial medical record aggregation, analytics and pre-validation services. Uniquely positioned to change the paradigm in the global clinical trial market, iPatientAxis combines real-world clinical data with a patented platform to streamline and automate both patient and site identification. iPatientAxis ensures that trials meet their enrollment goals without incurring the unexpected expenses of adding additional sites or costly delays. To learn more, visit www.ipatientaxis.com.  
Press Contact: Tess Dokus
Email: Tess.Dokus@ipatientaxis.com
Phone: +1(855)486-5055
Source: iPatientAxis
Share:
---
Categories: Healthcare
Tags: Clinical Trials, EMR, Patient Recruitment
---