'Increase Profits and Reduce Costs' SandStar Smart Kiosks Win the Favor of World's Three Largest Beverage Suppliers With One Move
Press Release
-
updated: May 28, 2020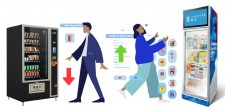 CHARLOTTE, N.C., May 28, 2020 (Newswire.com) - Leveraging Computer Vision as core technology, the SandStar Smart Kiosks well represent the combination of technology trend and industry demand.
While people pay high attention to the technology embodied by the product, the logic behind the popularity of the product is easy to be ignored: it is favored by the retailers not only because it applies the most cutting-edge technology but also because it brings tremendous commercial value to them.
Therefore, the computer-vision-based SandStar Smart Kiosks are designed to help the retailers increase profits while reducing costs.
#1 Buy more when customers can touch the products
When purchasing from a traditional vending machine, consumers won't be able to touch the products before payment. Under this condition, people will behave rationally, most of them will choose  only the product he/she wants most.
When the products become touchable, things go differently. Compared with the traditional vending machine, SandStar Smart Kiosks enable people to take before paying; that's to say, consumers are able to open the door to choose the items they want. Under this condition, people can see and touch more details of the products, the material of packages, see the producing date, etc. This will give them more time to think and their shopping journey will end with buying more than one product.
In a real case in Japan, a client told SandStar, among the orders placed for traditional vending machines, 90% of them have only one item included, only 10% of people bought more than one; when the SandStar Smart Kiosks were put into use, 40% would purchase more than one item. It's proven that SandStar Smart Kiosks do increase the purchase intention and boost sales up by 130%.
#2 Replenishment became easier
Replenishment is another tedious and costly part of the operation process.
In a traditional vending machine situation, the operation staff won't be able to know real-time sales performance, thus they need to drive a medium-size truck with all the items loaded - they have to assume all the items were sold out and head to the vending machine at a certain frequency, like every two weeks. This will cause unnecessary waste of labor, and if some of the items sell out very soon, the vending machine will stay empty for a long time until the next replenishment comes.
The most obvious advantage of SandStar Smart Kiosks is that retailers can monitor the sales performance at a real-time frequency. Whenever they find some of the items are so popular that they sell out in a short time, retailers can get an inventory alert in the system and send their staff to go for a replenishment. They can ride a bike and carry only the necessary items with them.
A Smart Kiosk is an easier and money-saving solution for the retailer. Take SandStar's client as an example; they are one of the most famous beverage brands in the world. As the owner of a big amount of vending machine, they spend a lot on replenishment every year. Before the smart kiosks were put into use, their staff needed to do the replenishment every two weeks, taking 200 bottles of beverages with them on a truck, and the average cost of a single trip for the replenishment is 80 dollars. When they upgraded the vending machine into a smarter kiosk, the cost was reduced by 40%.
#3 Intelligence on product selection and pricing strategy
The cameras deployed in and out of the kiosks can collect useful data like never before. With the accumulated data, retailers will get more exciting insights about products and consumers.
The gross margin in the retail industry is around 35%-45%. But not every kind of item is equally popular. A customized pricing strategy may help retailers sell the product in a shorter time.
Through the data collected by smart kiosks, retailers will clearly know more about their consumers' shopping behavior: how many times they pick up an item but put it back, how many times they hesitate between two similar items, etc. The insights gained can help with a pricing and marketing strategy.
Furthermore, the cameras can also collect the traffic data nearby, like how many people passed by in a certain time, their walking pace, etc., this will help to see if this spot is a good one for vending or what product selection and promotion strategy is needed based on the big data analysis.
SandStar acts on Corporate Social Responsibility (CSR) initiatives, the solution is carefully designed to protect customer privacy. The camera involved only captures products and the shopping behavior by marking the key point the human skeleton. Additionally, since the system is based on self-learning, all data processing is done automatically by the system itself.
Based on SandStar's client experience, customized product selection and pricing strategy, plus a smarter positioning strategy, can bring about another 20% profit for retailers.
Using Computer Dynamic Vision as core technology, SandStar Smart Kiosks has been used by a lot of FORTUNE 500 clients, like Wanda Group, SINOPEC, YOSHINOYA etc.
Overall, the results of the statistical analyses showed that SandStar Smart Kiosks can help retailers to reduce the cost of replenishment up by 40% and boost sales up to 30% by increasing the purchase intention of buying more than one products, bring more than 20% profits by an optimized product selecting and pricing strategy.
SandStar Smart Kiosks also challenge the traditional vending machine on price. Not only is the capital cost of Smart Kiosk lower than a traditional vending machine, but it also can save you a big amount of money in replenishment and repair costs.
As the president of SandStar North America, Mike Kiser, who has 32 years of industry experience said, "SandStar's cutting-edge AI Computer Vision technology truly transforms retail industry, my motivation and focus are to obtain the resources required to fully exploit this exciting new technology to accelerate speed to market and position SandStar as the leading AI Computer Vision Company in the world." 
Kiser has extensive experience in the retail market and has served as CEO for Canteen, CMO for Compass Group and as a member of the Board of Directors. As an industry well-known veteran, Kiser will be bringing his 32-year significant experience to SandStar North America and continue the company's rapid global expansion.
Source: SandStar
Share:
---
Categories: Retail Technology
Tags: AI retail, MRS, SandStar, Smart Kiosk
---