Ideal Dental Teams Up With America's Sweethearts - the Dallas Cowboys Cheerleaders
Press Release
-
updated: Oct 2, 2017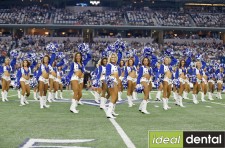 DALLAS, October 2, 2017 (Newswire.com) - Ideal Dental announces its partnership as the Official Dentist of the Dallas Cowboys Cheerleaders for the upcoming 2017-2018 NFL season.
The Dallas Cowboys Cheerleaders are always looking flawless with their show-stopping smiles, and as the partner to The DCC, Ideal Dental will provide whitening services and dental treatment to the cheerleaders throughout the season.
"Having started our first office in Garland, Texas nine years ago, we have always been huge fans of the team," said Dr. Sulman Ahmed, Founder and CEO of Ideal Dental. "We're excited to partner with our local team and look forward to providing smiles for The Dallas Cowboys Cheerleaders."
With over 40 affiliated locations throughout DFW and extended weekend hours, Ideal Dental is able to provide convenient care to all guests. 
Current Director of the Dallas Cowboys Cheerleaders, Kelli Finglass remarked, "We are thrilled about our newest partnership with Ideal Dental and look forward to seeing the team's bright and white smiles."
Ideal Dental is an established dental practice with a modern approach to oral care. From its contemporary interiors to its up-to-date equipment, Ideal Dental is suited to create a unique experience for its guests.
Its mission is to provide quality care to every guest through attentiveness, open communication and patient education.
As a proud Texas business and partner of The Dallas Cowboys Cheerleaders, Ideal Dental is all smiles about this season and partnership. To find an office location near you, visit myidealdental.com.
ABOUT IDEAL DENTAL:
Ideal Dental's mission is to put smiles on the faces of hundreds of patients that visit its offices daily. Ideal Dental enables its doctors to deliver high-quality and affordable dental care by requiring continuing education, training and mentoring for all doctors. This, in addition to an internal review board, ensures that every doctor is delivering the best care possible. The company is also just as dedicated to the community as it is to its patients. Ideal Dental is a proud partner of Kidd's Kids, Pat and Emmitt Smith Charities and St. Jude Children's Research Hospital and serves as the Official Dentist of the Dallas Mavericks. Dr. Ahmed's belief in putting patients first is the fundamental backbone in Ideal Dental's core values and patient care delivery model. To learn more information about Ideal Dental, please visit myidealdental.com.
ABOUT THE DALLAS COWBOYS CHEERLEADERS:
Since their first Championship days in the 1970s, the Dallas Cowboys have been called "America's Team" and their famed cheerleaders are "America's Sweethearts." The Dallas Cowboys Cheerleaders have been often imitated throughout the league, but never equaled in terms of beauty, style, athleticism and worldwide popularity. The blue and white star-spangled uniforms have unquestionably become an iconic symbol of America. The Dallas Cowboys Cheerleaders perform for more than 80,000 fans at all home games in the new AT&T Stadium, travel to exotic locations on the annual Swimsuit Calendar Shoot, perform around the world on USO Tours for American military personnel and families and make countless appearances in film and television. The Dallas Cowboys Cheerleaders made history as the first cheerleading squad to have a self-titled made for television movie, received the first-ever USO "Spirit of Hope Award" and are the only entity to have been honored with the Spirit of Hope, induction into the VFW Hall of Fame, and awarded the American Legion's Distinguished Service Medal in recognition of the many years of dedicated service to the men, women and families of American Armed Forces.
Source: Ideal Dental
Share:
---
Categories: Sports, Fitness, and Recreation, Active and Healthy Living, Football, Dance, Dentistry, Sports-related Business
Tags: Cheerleaders, Dallas, Dallas Cowboys, DCC, Dentistry, Football, Ideal Dental, NFL, Sports, Sulman Ahmed, Texas
---