Ideal Dental Opens Its First Location in the City of Denton, Texas
Press Release
•
updated: Mar 7, 2018
Ideal Dental Denton opens its doors to the public on March 7, 2018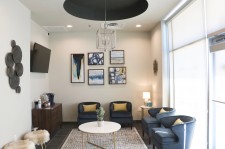 DENTON, Texas, March 7, 2018 (Newswire.com) - Ideal Dental – an established dental practice with a modern approach to oral care – continues its growth in Dallas-Fort Worth with its first office location in Denton, Texas opening on March 7.
Ideal Dental Denton is located within the Dallas-Fort Worth metro area nestled along the North Lakes Park. Just a short drive away from the heart of Dallas, the city of Denton is a growing community with a small-town atmosphere. The office grand opening will take place in early April.
"We are excited to open our first office in Denton," said Dr. Sulman Ahmed, Founder and CEO of Ideal Dental. "Our team's number one priority is patient care and we can't wait to connect and grow with the city."
Garland, Texas became home to Ideal Dental's first office in 2008. Over the past nine years, the dental practice has expanded and now has over 70 office locations throughout San Antonio, Houston, Dallas-Fort Worth and Austin.
Ideal Dental's mission is to provide quality care to every guest through attentiveness, open communication and patient education. From its contemporary interiors to its up-to-date equipment, Ideal Dental is suited to create a unique experience for its guests.
Ideal Dental brings the convenience of Saturday hours including extended weekday office hours, along with full in-house specialty services such as orthodontics and oral surgery.
About Ideal Dental
Ideal Dental is an established dental practice with a modern approach to oral care. Based on a truly patient-centered model, Ideal Dental is just as dedicated to the community as it is to its patients. Ideal Dental is a proud supporter of St. Jude Children's Research Hospital, Pat & Emmitt Smith Charities and Kidd's Kids.
To learn more information about Ideal Dental, please visit www.myidealdental.com.
Source: Ideal Dental