DECA Dental Group Launches New Internship Program
Press Release
•
updated: Sep 12, 2018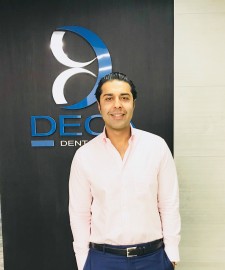 DALLAS, September 5, 2018 (Newswire.com) - Dr. Sulman Ahmed and DECA Dental Group are proud to announce the start of a new internship program focusing on giving individuals with autism the opportunity to have hands-on experience learning the diverse job skills necessary to enter the traditional workforce.
Founder and CEO, Dr. Sulman Ahmed wants to provide a platform where individuals have the opportunity to take the first step in their career, challenge themselves and succeed. He feels compelled to put his time, effort, and resources toward establishing a program that provides renewed hope and tangible benefits to selected individuals.
I would not be where I am today, had people not taken a chance on me and my dream. I want to give others that chance to build a career and achieve success. It's both an incredible opportunity and responsibility for all of us.

Dr. Sulman Ahmed, Founder and CEO, DECA Dental Group
The Dr. Sulman Ahmed Opening Doors Internship will give interns an opportunity to work in a corporate environment where they will learn workplace etiquette and career-focused tasks in a way they may not otherwise receive. The interns will assist all departments at the DECA Corporate office with everyday tasks and special projects, expanding their knowledge and skill set, so they are better equipped to take the next step in their career.
This program and partnership are of great importance not only to the individual interns but also the DECA Dental team and culture. Every day, our offices help to improve people's lives one smile at a time. We are excited to take this vision from Dr. Ahmed, use the tools and support provided by the Texas Workforce Commission, and put our own helping hands and caring hearts to work, to make this life-changing opportunity a reality.
About DECA Dental Group
DECA Dental Group was founded in 2008 by Founder and CEO, Dr. Sulman Ahmed. DECA Dental's mission is to put smiles on the faces of hundreds of patients that visit its offices daily. To do so, DECA builds and supports their doctors to deliver quality affordable dental care through ongoing training, education and mentoring.
To learn more information about DECA Dental, please visit www.decadental.com.
Source: DECA Dental Group
Additional Links