ICAIE Releases New Policy Brief: Emerging Transnational Organized Crime Threats in Latin America — Converging Criminalized Markets & Illicit Vectors
Press Release
•
Apr 12, 2023
Leveraging actionable intelligence across sectors to decisively target the logistics, infrastructure, and financial wherewithal of illicit actors in order to safeguard the rule of law and civilian security.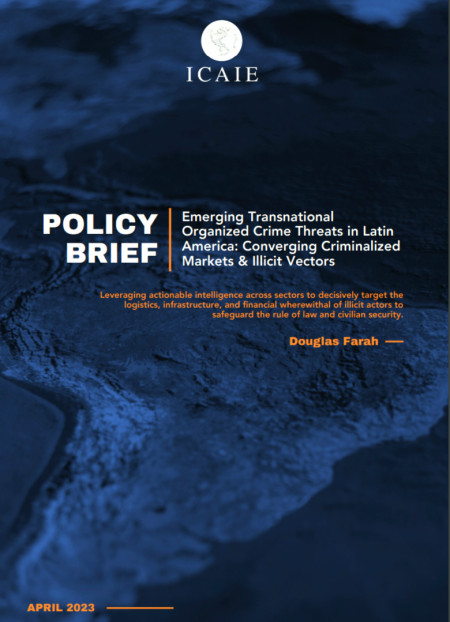 WASHINGTON, April 12, 2023 (Newswire.com) - David M. Luna, Executive Director of the International Coalition Against Illicit Economies (ICAIE), announced today the release of ICAIE's new Policy Brief (April 2023), "Emerging Transnational Organized Crime Threats in Latin America — Converging Criminalized Markets & Illicit Vectors." The framework of the convergence paradigm posits that multiple transnational criminal and terrorist groups — and their enablers, regardless of ideology, work collaboratively when common interests align, and under state protection when such cooperation is mutually beneficial. The new ICAIE policy brief underscores that "in too many places in the hemisphere, these threat networks have been able to co-opt governance structures and penetrate key public institutions and markets."
The multibillion-dollar illicit economies across Latin America, long centered on the cocaine and narcotics trade but increasingly diversifying to new commodities and activities, are undergoing a volatile, profound reordering and restructuring, with long-term strategic repercussions in the years to come for the United States and its key allies in the hemisphere.
This significant reordering of illicit networks structure in the Western Hemisphere is not taking place in a vacuum, nor are the traditional policy and engagement tools in place able to mitigate the impact of this evolution of the erosion of the rule of law, democratic governance and corruption.
Now, Latin America is facing a "perfect storm of reinforcing economic, criminal and political stresses that is eroding its institutions and economic prospects, radicalizing its people, and undermining its commitment to democracy and the rule of law." The malign influence of China, Russia, and Iran exacerbates regional anti-crime strategies.
In this context, we identify five emerging security trends that offer new challenges to law enforcement and policy communities in the region. Trends that are far reaching, and threaten to accelerate the negative trajectory unless dealt with effectively.
Across the Americas, kleptocrats, cartels, organized criminals, and foreign malign actors are financing violence, corruptive influence, insecurity and instability, co-opting institutions, undermining democracy and the rule of law, while lining their own pockets with filthy lucre and stolen assets. According to David Luna, "The United States must bring greater justice, accountability, and cross-border cooperation and political will across Latin America to fight corruption and organized crime, enforce laws, sanction illicit activities, seize dirty monies of crime, and prosecute kleptocrats, ruthless criminals, threat networks, and their complicit enablers who continue to export violence and harmful drugs, illicit goods, and contraband into American cities and communities."
ICAIE brings together diverse champions across sectors and communities, including leaders from the private sector and civil society to combat cross-border illicit threats that endanger U.S. national security.
Find Full ICAIE Policy Brief here.
Media Contact:
David M. Luna, ICAIE/LGN
202-875-9484
Source: ICAIE
Related Files