ICAIE Applauds Global Financial Integrity (GFI) in New Report on China's Role in Transnational Crime and Illicit Trade
Press Release
•
Oct 27, 2022
According to ICAIE, China Inc. has leveraged corruption, illicit markets, and predatory trade and lending practices to become the world's biggest transnational illicit trade syndicate across global markets, supply chains, and online marketplaces, and to finance its economy and military, enhancing prosperity and anchoring stability for the ruling CCP regime.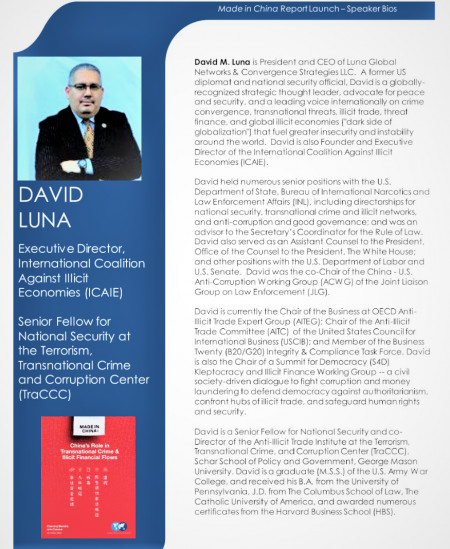 WASHINGTON, October 27, 2022 (Newswire.com) - David M. Luna, Executive Director of the International Coalition Against Illicit Economies (ICAIE), applauds the new report by Global Financial Integrity (GFI), "Made in China: China's Role in Transnational Crime & Illicit Financial Flows", which analyzes the growing illegal trade and corruptive influence by China Inc. - China's network of state-owned enterprises and criminal triads - across markets globally.
"Corruption and illicit trade are among the enabling drivers of China's national aspirations to global economic power, its aggressive foreign policy, and great power competition strategies. China's illicit trade facilitates a convergence of crimes that spawns bigger destabilizing threats across the international community," said Luna.
The state-sponsored corruption exported through its strident foreign policy is sanctioned at the top level of government through China's state-owned enterprises or external economic development initiatives such as the Belt and Road Initiative." David M. Luna
China's role in diverse forms of illicit trade and dark commerce today includes the trafficking of illegal fentanyl and precursors, humans, counterfeits, endangered wildlife, and other contraband, as well as money laundering across black markets and the digital world, as the report finds.
As detailed in the new GFI report, "China today is helping fuel the multi-trillion-dollar global illegal economy. China is benefitting financially through the illicit manufacturing and unauthorized exporting of harmful products such as the chemical precursors to make deadly fentanyl and other opioids, fake goods that can cause great bodily harm or death, and through its international role in laundering dirty money from all corners of the globe," said Luna.
"Illicit activities such as the illegal fentanyl trade not only harms our people - killing tens of thousands of Americans each year - it becomes a threat multiplier. It enables Mexican cartels to earn tens of billions of dollars a year in dirty money, some of which is laundered in China, and the financing enables the cartels to infiltrate the Mexican government," added Luna.
The GFI report also finds that another harm to global security is driven from China's illegal trade and unregulated economy and the flooding of counterfeits - oftentimes dangerous and toxic fake products - into U.S. markets and online marketplaces. According to estimates in the report, China accounts for up to 80% of all counterfeits in the global marketplace (OECD: $500 billion/year).
ICAIE encourages the United States and international community to confront and constructively engage China to be a more responsible global leader and market citizen in addressing a multitude of the illicit threats that harm U.S. national security and the collective security of all nations.
Source: ICAIE
Tags