Howard University Jazz Ensemble Hosts 2017 Spring Concert Featuring Afro Blue and Warren Wolf
Press Release
•
updated: Mar 7, 2017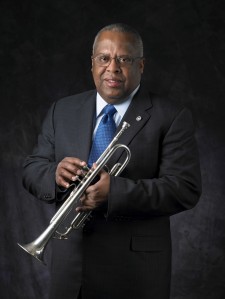 Washington, DC, March 7, 2017 (Newswire.com) - The Howard University Jazz Ensemble (HUJE) Spring Concert will be held on Tuesday, March 7, 2017 at 12:40 pm in the Andrew Rankin Chapel. HUJE will be accompanied by Howard University's vocal jazz ensemble, Afro Blue and vibraphonist, Warren Wolf.
Recognized as one of the most distinguished collegiate groups in the nation, HUJE has traveled nationally and abroad, delivering spectacular performances since its founding in 1975. Directed by renowned musician Fred Irby, III, this year's concert will follow in the tradition of years past with superb performances and special guests.
Afro Blue will perform multiple selections at the concert, adding to its extensive list of upcoming appearances to promote their upcoming album release. The group has been featured on national talk shows, reached the top four of The Sing-Off's a cappella competition, performed at the White House and recorded an hour-long Christmas special for National Public Radio (NPR). In addition, it has established a continuing relationship with the John F. Kennedy Center for The Performing Arts.
Featured pianist, drummer, composer, bandleader, mentor, and vibraphonist, Warren Wolf will lend his talents to the audience's delight. Wolf, a graduate of Berklee College of Music, is this year's Benny Golson honoree. This award was created by HUJE to honor the legacy of jazz composer, saxophonist and Howard alumnus, Dr. Benny Golson. The award recognizes the exceptional work of jazz artists. Past recipients include Cyrus Chestnut, Andre Heyward, and T.S. Monk. In addition to his solo recordings, Wolf has worked alongside Esperanza Spalding, Tina Fuller and The Lincoln Center Jazz Orchestra.
This unforgettable musical experience is free and open to the public. For media inquiries contact Brittany Bell Surratt, brittany.bell@howard.edu, (202)865-8038.
Howard University Jazz Ensemble
Howard University Jazz Ensemble (HUJE) was founded in 1975 by its director, Fred Irby, III. Outstanding performances in the United States, Europe, South America, Asia, and the Caribbean have caused it to be recognized as one of the foremost college jazz ensembles. HUJE has been heard on radio and television as well as in concert, often appearing with celebrated performers. Members of the HUJE have won awards as performers and composers/arrangers, and the ensemble includes among its alumni several practicing jazz artists. Additionally, the HUJE was featured during the 1992, 1996 and 2005 Kennedy Center Honors Gala (CBS-TV). The HUJE has released thirty-four recordings in a distinguished series that began in 1976.
Afro Blue
Afro Blue, was founded in the spring of 2002 by Connaitre Miller, Jazz Voice Coordinator at Howard University. Singing music similar to the styles of Lambert, Hendricks and Ross, The Manhattan Transfer, and Take 6, while adding their own unique sound, this dynamic "vocal big band" has performed to wide critical acclaim. Since its existence, Afro Blue has received numerous Student Music Awards (SMA) by the premier international publication of jazz and contemporary music, DownBeat Magazine, and members of the ensemble have been recognized for their stellar solo work. Afro Blue director, Connaitre Miller, was awarded by DownBeat, the prestigious "Jazz Education Achievement Award" and Jazz Times Magazine traced the history of Afro Blue in the feature article "How Afro Blue Happened."
Warren Wolf
Warren Wolf is a multi-instrumentalist from Baltimore, MD. From the young age of three years old, Warren has been trained on the vibraphone/marimba, drums, and piano. Under the guidance of his father Warren Wolf Sr., Warren has a deep background in all genres of music. Warren attended the Peabody Prepatory for eight years studying classical music with former Baltimore Symphony Orchestra member Leo LePage. During his high school years at the Baltimore School for the Arts, Warren studied with current Baltimore Symphony Orchestra member John Locke. After graduating from Baltimore School for the Arts in June of 1997, Warren headed north and enrolled at the Berklee College of Music in Boston, MA. After graduating from Berklee in May of 2001, Warren became an active musician on the Boston local scene. Warren was hired in September of 2003 to become an instructor in the percussion department at Berklee College of Music. Warren taught private lessons on the vibraphone and drums, as well as a beginners keyboard class for entering freshman drumset majors.
Warren has several recordings as a leader. Warren's first two records are on the Japan-based M&I label. The first record, titled "Incredible Jazz Vibes", features Mulgrew Miller on piano, Vicente Archer on bass and Kendrick Scott on drums. The second record is titled "Black Wolf". That record features Mulgrew Miller on piano, Rodney Whitaker on bass and Jeff "Tain" Watts on drums. Warren has a self produced CD which is titled "RAW". That record features Darren Barrett on trumpet, Walter Smith on tenor saxophone, Jason Palmer on trumpet, Plume on alto saxophone, Kris Funn on bass, Peter Slavov on bass, Lawrence Fields on piano/Fender Rhodes and Charles "Dogg" Haynes on drums. On "RAW" Warren performs on both the vibraphone and drums. The fourth recording is titled Warren "Chano Pozo" Wolf. On this recording, Warren performs on the vibraphone, drums/Fender Rhodes and piano. This recording features Tim Green on alto saxophone, Lawrence Fields on piano/Fender Rhodes, John Lamkin on drums, Dana Hawkins on drums, Kris Funn on bass, Louis Cato on electric bass, Delandria Mills on flute, Tabreeca Woodside and Integriti Reeves on vocals. Warren has recently signed to the Mack Ave recording label.
Source: Howard University
Related Media