Howard University Scores Big in the Newest 'US News & World' Rankings
Press Release
•
updated: Sep 12, 2017
Howard Jumps 14 Spots from previous year; achieves improvements in key ranking factors, including student graduation and alumni participation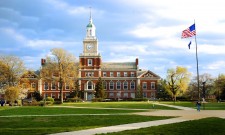 WASHINGTON, September 12, 2017 (Newswire.com) - Howard University climbed 14 spots to No. 110 in the latest rankings of the nation's best universities by U.S. News & World Report, confirming the improved strength in Howard's academic performance and reputation.
The rankings, released today, are based on assessments of more than 1,600 of the country's four-year colleges and universities and will be included in the 2018 edition of America's Best Colleges. A year ago, Howard University recorded an 11–point improvement.
These rankings are one marker of our success and come as the result of several new initiatives.

Dr. Wayne A. I. Frederick, President, Howard University
"We continue to focus on providing an excellent education for very deserving students," said Howard University President Wayne A. I. Frederick. "These rankings are one marker of our success and come as the result of several new initiatives."
Dr. Frederick pointed to a commitment to recruiting the best students and faculty, increasing compensation to retain excellent faculty, leveraging institutional resources for financial aid to needy students, and improving technology to enhance students' ability to stay on track to graduation. He also said increased alumni engagement has manifested in a doubling of the alumni giving rate over the past three years.
U.S News recognized Howard in other major ranking categories. In the listing of the Best Undergraduate Business Programs, Howard rose five spots to No. 128. Howard also made the list of High School Counselors' Top College Picks and as an A+ School for B Students. The University was again ranked No. 2 among top historically Black colleges and universities, or HBCUs.
Howard University achieved improvements in nearly all ranking factors considered. Compared to the previous year, Howard boasted an improved institutional reputation score among presidents, provosts and deans of admission at peer schools. The University increased its vaunted first-year student retention rate, which is above the national average. Additionally, Howard's graduation rate also saw significant movement, as the graduation rate outcome was 7 percent higher than the anticipated rate.
Howard University became a more academically selective institution in 2016, accepting less than one- third of those who applied for admission. The percentage of Howard freshmen who had been in the top 10 percent at their high schools also increased. The incoming freshmen class had stronger SAT and ACT scores than the previous class. The alumni giving rate continues to climb and at 10 percent is currently higher than the national average.
The U.S. News & World Report's Best Colleges rankings consider the following categories: Undergraduate Academic Reputation, Student Selectivity, Faculty Resources, Graduation and Retention Rates, Financial Resources, Alumni Giving, and Graduation Rate Performance. For more information about U.S. News & World Report's national university rankings, visit https://www.usnews.com/best-colleges/rankings/national-universities.
Howard University is a comprehensive research university as well as a premier HBCU. The University prides itself on its success in providing educational excellence to a diverse body of students, many of whom come from challenging economic, geographic and educational backgrounds. The value of Howard University's contribution to the nation and the world is evident in the many stellar alumni of the institution who are in leadership roles throughout the world.
For media inquiries, contact Sholnn Freeman at (202) 865-3518 or sholnn.freeman@howard.edu.
About Howard University
Founded in 1867, Howard University is a private, research university that is comprised of 13 schools and colleges. Students pursue studies in more than 120 areas leading to undergraduate, graduate and professional degrees. The University has produced four Rhodes Scholars, 10 Truman Scholars, two Marshall Scholars, over 80 Fulbright recipients, 22 Pickering Fellows and one Schwarzman Scholar. Howard also produces more on-campus African-American Ph.D. recipients than any other university in the United States. For more information on Howard University, call 202-238-2330, or visit the University's website at www.howard.edu.
Source: Howard Unversity
Additional Links