Howard University Announces Annual Homecoming Festivities
Iconic Homecoming parade returns and YardFest remains as Howard celebrates its 150th year
Press Release
-
updated: Sep 14, 2017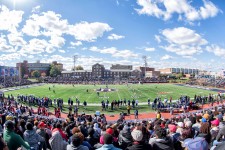 WASHINGTON, September 14, 2017 (Newswire.com) - Howard University will kick off its annual Homecoming festivities on Sept. 18 with the 2017 Homecoming Scholarship Golf Classic and conclude with a number of events occurring throughout alumni weekend, Oct. 20-22. This year, Homecoming will welcome the return of the Howard Homecoming parade, a long-time favorite among community members, students, and alumni.
"This homecoming is particularly exciting for many reasons. From the return of the homecoming parade, to the introduction of the Inaugural HU Ideas Festival, we are thrilled to announce this year's events," said Howard University President Wayne A. I. Frederick. "There will certainly be an event for everyone."
The sesquicentennial-themed homecoming celebration will feature traditional Homecoming events, such as the Annual Day of Service, Annual Student Fashion Show, Greek Step Show, and the President's State of the University Address. Keeping up with the University's celebration and commitment to diversity, inclusion, empowerment and scholarship, the 3rd Annual Lavender Reception will take place on Oct. 19. The reception honors and awards scholarships to Howard University undergraduates who drive awareness of LGBTQ+ issues and are committed to activism in the larger community. Donations raised go directly to the Lavender Fund, which provides scholarships for students invested in LGBTQ+ advocacy and support.
New to the homecoming lineup this year are the #YouTubeBlack FanFest live show and the Inaugural HU Ideas Festival.
The Inaugural HU Ideas Festival is a showcase of provocative conversations, ideas, and discussions on the most important issues of today. From lectures to debates to one-on-one interviews and more, attendees will have exceptional opportunities to interact with varying industry leaders.  
YardFest, a student and alumni favorite, is back again with a talented lineup of top tier artists on a live stage to entertain all event goers.
The most anticipated event of this year's homecoming celebration is the cornerstone of the occasion, Howard University football. After a historic football season opener, fans of the Howard University football team are up for a treat as the Bison host conference rivals, the Morgan State Bears. Before heading to the game, homecoming attendees can show their team spirit during the parade and tailgate, and after the game, transform to the night time for the Presidential Soiree.
The weekend will end on Sunday, Oct. 22 with fellowship and fashion at the Annual Alumni Fashion Show and Brunch.
For the full list of events, visit homecoming.howard.edu/calendar.
For media inquiries, contact Brittany Bell: Brittany.bell@howard.edu.
About Howard University
Founded in 1867, Howard University is a private, research university that is comprised of 13 schools and colleges. Students pursue studies in more than 120 areas leading to undergraduate, graduate and professional degrees. The University has produced four Rhodes Scholars, 10 Truman Scholars, two Marshall Scholars, over 80 Fulbright recipients, 22 Pickering Fellows and one Schwarzman Scholar. Howard also produces more on-campus African-American Ph.D. recipients than any other university in the United States. For more information on Howard University, call 202-238-2330, or visit the University's website at www.howard.edu.
Source: Howard University
Share:
---
Categories: Educational News, Collegiate Sports, Colleges and Universities, College news, Arts and Entertainment, Education
Tags: Bison, HBCU, HBCU Homecoming, Homecoming, Howard, Howard Homecoming, Howard University, Howard University Athletics
---