How to Join the IVC Filter Litigation at No Cost to You or Your Family
Press Release
•
Apr 12, 2016
Individuals who have suffered complications or life threatening injuries as a result of defective IVC filters have many legal options. Consumer Safety Watch offers free legal assistance and can help place injured victims and their families with qualified law firms that will accept their cases at no cost unless there is a favorable verdict or settlement.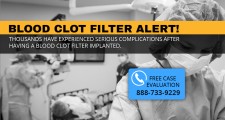 San Diego, CA, April 12, 2016 (Newswire.com) - Patients who received a retrievable IVC filter to reduce their risk of blood clots and pulmonary embolism are pursing financial compensation from C.R. Bard and Cook Medical for serious and potentially life-threatening side effects, and if you believe you have been harmed by alleged IVC filter side effects, you, too, may be eligible for financial compensation for your injuries, medical expenses, pain and suffering, and other damages. According to Consumer Safety Watch, a consumer advocacy organization that assists individuals who have suffered injuries due to corporate negligence, the IVC filter litigation is still in its early stages, and product liability lawyers are investigating new claims on behalf of injured individuals every day, but it's important to note that there is a statute of limitations in place for each state, a law that regulates the amount of time an individual has to pursue compensation for injuries from a medical product.
How Do IVC Filters Work?
​Qualify for Free IVC Filter Case Legal Representation Now
Inferior vena cava (IVC) filters are medical devices surgically inserted in the inferior vena cava – the largest vein in the body – to capture blood clots and prevent them from traveling to the heart and lungs and causing a pulmonary embolism (PE). IVC filters are often used in patients who are unable to take anticoagulant medications due to an adverse reaction or uncontrollable bleeding event, or for patients who have suffered recurrent deep vein thrombosis (DVT) while taking a blood-thinning medication. Retrievable IVC filters are designed to provide short-term protection against blood clots and pulmonary embolism, and are intended to be removed once the risk of PE has subsided.
FDA Warnings for IVC Filter Recipients
Although retrievable IVC filters were developed in response to concerns about the long-term complications of permanent blood clot filters, which aren't designed to be removed at all, the temporary filters have been linked to their fair share of problems, like damaging veins and migrating out of position after implantation. According to a 2010 safety announcement issued by the U.S. Food and Drug Administration (FDA), the agency had received 921 reports of adverse events involving IVC filters from 2005 to 2010, including 328 reports of device migration, 146 reports of embolization, 70 reports of vena cava perforation, and 56 reports of filter fracture.
According to the FDA's safety alert, the agency "is concerned that retrievable IVC filters, intended for short-term placement, are not always removed once a patient's risk for PE subsides." The FDA also indicated that "known long term risks associated with IVC filters include but are not limited to lower limb deep vein thrombosis (DVT), filter fracture, filter migration, filter embolization and IVC perforation. In 2014, the FDA issued another IVC filter safety communication, this time advising that "implanting physicians and clinicians responsible for the ongoing care of patients with retrievable IVC filters consider removing the filter as soon as protection from pulmonary embolism is no longer needed."
Lawsuits Filed Over IVC Filter Injuries
Hundreds of product liability lawsuits have already been brought against IVC filter manufacturers C.R. Bard and Cook Medical, alleging negligence, design defects, failure to warn, manufacturing defects, negligent misrepresentation and breach of implied warranty on the part of the medical device makers. In February 2015, just 10 days after trial began, C.R. Bard settled a product liability lawsuit filed by an IVC filter recipient who alleged that the Bard Recovery filter broke inside his body. According to allegations raised in the IVC filter lawsuit, one of the filter struts, or legs, became separated from the device and traveled to his heart, perforating it. He subsequently required open heart surgery, after which he underwent a lengthy recovery.
Consult an Experienced IVC Filter Injury Lawyer for Help
Attorneys representing potential claimants in the IVC filter litigation typically offer free confidential consultations, which means you can discuss your case with a knowledgeable lawyer for fee, before you decide whether to move forward with your claim, and they also generally operate on a contingency basis, which means only if you successfully recover damages from the medical device maker will your lawyer get paid. If you received an IVC filter in the past, and you have since suffered complications like filter migration, filter fracture or perforation of the inferior vena cava, contact an experienced IVC filter injury lawyer today for legal help.
Source: Consumer Safety Watch
Related Media
Tags
Additional Links