How JTT Firefighting Drones Are Saving Lives
Press Release
•
updated: May 18, 2017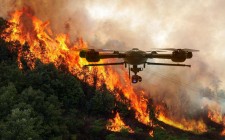 Shenzhen, China, May 18, 2017 (Newswire.com) - As drone technology continues to bloom within the public-safety sector, firefighting agencies have especially found UAV tech beneficial in battling blazes.
Steve Richards, A firefight service's station manager, has been trained as a drone pilot and says drones will save lives.
He added: "It gives you the whole picture so when you go to an incident with (drones) we can actually do a 360 observation and stay in a safe place… it's putting the drone up instead of having to put the firefighters in there."
The drone system can not only detect fires in the tallest of skyscrapers, it can also search an engulfed building and transfer real-time data to human firefighters to build a better game plan for extinguishing a blaze. With the ability to roll over walls or fly, JTT T60 pro can deploy thermal infrared imager and altimeter to navigate a building autonomously when detecting human beings.
JTT T60 pro is an unmanned aerial system drone equipped with endurance and quick deployment abilities. With its waterproof camera gimbal and HD video transmitter, it can transmit live video feed directly to the video transmitter. Also, the flying machine has the ability to transmit 1080P video signal for up to 20 miles. With its huge payload options and ground control software, T60Pro is very effective for firefighting. Besides, it comes with reliable LED lights with low battery warning, self-tighten carbon fiber propellers and easy-to-use remote controller, which can be used to capture actual happening of a fire incident.
Source: Shenzhen JTT Technology Co.,ltd.
Related Media