How Healthy is Our Future?
Press Release
•
updated: Apr 12, 2018
Emerging technologies are transforming how we diagnose and treat disease, and Futurist Jack Uldrich will be speaking today on what the future could hold for health care.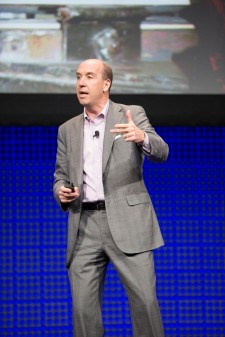 RALEIGH, N.C., April 12, 2018 (Newswire.com) - Acclaimed Futurist Jack Uldrich is in Raleigh, NC, today to give the keynote presentation at the 2018 Medical Mutual Partners + Symposium. The Symposium is held each year for administrators and senior physicians insured by Medical Mutual. His keynote today is titled "The Future of Health Care: The Big AHA."
The acronym "AHA" in The Big AHA stands for Awareness, Humility, and Action.
For better or worse the future of health insurance will largely be determined by the industry's ability to understand—and thus underwrite—the future of various technologies.

Jack Uldrich, Futurist & Founder of the School of Unlearning
"Organizations must strive to enhance their awareness of changes on the horizon; have enough humility to acknowledge that what served the business well in the past might not be sufficient tomorrow, and they need to be willing to take action in the face of less-than-perfect information," says Uldrich.
Uldrich makes it his mission to help health care leaders address and embrace the imminent changes in the field. In his presentation today, he will discuss how innovations in a wide variety of technologies are transforming both the health care and insurance industries. Uldrich will illustrate how continued advances in artificial intelligence, genomics, 3D printing, big data, biotechnology, nanotechnology, robotics, the internet of things, regenerative medicine, wearables, and emerging blockchain technologies will radically reshape these industries in the decade ahead.
As part of learning the importance of humility, Uldrich will then focus on why health care professionals must embrace the concept of unlearning in order to achieve future success. Hailed as "America's Chief Unlearning Officer" by Businessweek, he will conclude his presentation by reviewing specific habits, customs, beliefs and ideas that health care and insurance professionals can — and must — unlearn to survive and thrive in the future.
According to Uldrich, the future of health care and insurance is changing fast. He says: "For better or worse the future of health insurance will largely be determined by the industry's ability to understand — and thus underwrite — the future of various technologies."
As a specialist in health care trends, Uldrich has addressed dozens of health care associations and hospitals, including the American Medical Association, the American Academy of Audiology, the American Academy of Neurologists, American Nurses Association, Bausch and Lomb, Boston Scientific, the Alcetel-Lucent/Verizon Forum on Wireless Healthcare, United Healthcare, IASIS Healthcare, Allina Hospitals, The Healthcare Trustees of New York, St. Jude Medical, among others.
To learn more about Jack Uldrich, his books, blog, or his speaking availability, please visit his website: JackUldrich.com.
Source: Jack Uldrich & The School of Unlearning
Related Media