How Does a Single Parent Balance Entrepreneurship and Parenting? Brandon Frere Shares Some Insight
Press Release
-
updated: Jun 8, 2018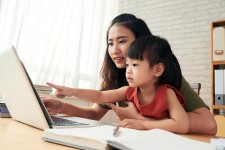 PETALUMA, Calif., June 8, 2018 (Newswire.com) - Balancing parenting and a small business can be difficult for anyone, but perhaps none so much as single parents. It can be difficult to know which to prioritize at any given moment, and single parent entrepreneurs certainly don't want to focus on the business at the expense of the kids or vice versa. Brandon Frere, CEO of Frere Enterprises, suggests that balancing the two may not look like an even split in time or effort.
"Running a business is not like having a job that ends at 5 o'clock, and neither is having kids," said Frere. "The two will likely compete for priority, and top priority will change several times during the day. That's okay."
The business is often necessary as a source of income to be able to support the kids, but single parents must also be able to drop work when the kids need them. Single parents can build those break times into their schedule specifically to spend some time with the kids, get some "me time," or even clean up kid-caused messes.
Running a business is not like having a job that ends at 5 o'clock, and neither is having kids.
Single parents may choose to combine parenting and running their business by incorporating the kids in decisions or giving them small tasks that can help the business. Doing so can allow the kids to see hard work in action, which can lead to a solid work ethic. It can also help to communicate to them that the business is important in keeping the house running, as the income from the business is what keeps the fridge stocked and the electricity on.
"Finding balance between home and work is usually all about setting boundaries, but when it comes to a single parent trying to balance the business and parenting, I might suggest blurring that line a bit," said Brandon Frere. "Of course, each parent entrepreneur will need to find what works for them and their kids. That might take some trial and error, but it could ultimately lead to a fulfilling life and legacy."
About Frere Enterprises
Brandon Frere is an entrepreneur and businessman who lives in Sonoma County, California. He has designed and created multiple companies to meet the ever-demanding needs of businesses and consumers alike. His company website, www.FrereEnterprises.com, is used as a means to communicate many of the lessons, fundamentals, and information he has learned throughout his extensive business and personal endeavors, most recently in advocating on behalf of student loan borrowers nationwide.
As experienced during his own student loan repayment, Mr. Frere found out how difficult it can be to work with federally contracted student loan servicers and the repayment programs designed to help borrowers. Through those efforts, he gained an insider's look into the repayment process and the motivations behind the inflating student loan debt bubble. His knowledge of the confusing landscape of student loan repayment became a vital theme in his future endeavors, and he now uses those experiences to help guide others through the daunting process of applying for available federal repayment and loan forgiveness programs.
FrereEnterprises.com
Source: Frere Enterprises
---
Categories: Entrepreneurship
Tags: entrepreneurship, single parent, small business own
---