How Could Emerging Trends Impact the Future of Banking?
The finance industry is being transformed by emerging technologies. Futurist Jack Uldrich discussed the opportunities and challenges this could create for banking last week at two events in Canada.
Press Release
-
updated: Dec 12, 2017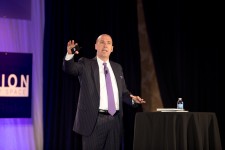 BANFF, Alberta, December 12, 2017 (Newswire.com) - Acclaimed futurist speaker Jack Uldrich was in Canada last week to share his insights on the future of banking with executives from a leading bank. The first event was held in Vancouver on Tuesday. Uldrich then traveled to Banff, Alberta, to speak at another event for the same bank the next day. 
The next decade is hardly more than two years away. What might the world of 2020 look like? How will the banking and finance change? More importantly, how will banking leaders need to change? According to Uldrich, "The answer, in two short words - a lot."
In his presentations, Uldrich addressed the changes and challenges of the digital world in the next 10 years. He said that blockchain technology, cryptocurrencies, artificial intelligence, gaming dynamics, nanotechnology, Big Data, chatbots and peer-to-peer lending will continue to drive seismic change and transform nearly every facet of society, including banking.
Regarding the potential of blockchain technology, Uldrich said, "The technology has the ability to do more than just disrupt how money is distributed, it has the potential to decentralize the internet by making it easier and more affordable to verify products, contracts and even transactions among individuals."
Uldrich is a prolific speaker on future trends in wealth management, finance and banking, where his insights and compelling message have kept him in high demand. He speaks to dozens of finance groups globally each year, including some of the biggest names in these industries. His clients in the financial sector include Banamex, Global Atlantic, Invesco, Thrivent, Coulee Bank, Signal Hills, Stockbridge, Questar Capital and Farm Credit Bank of Texas, among others. 
An excerpt on the future of the banking industry from Uldrich's book "Foresight 20/20: A Futurist Explores the Trends Transforming Tomorrow" can be viewed here. 
For more information on Jack Uldrich's speaking, writing and workshops, please visit his website.
Source: Jack Uldrich & The School of Unlearning
Share:
---
Categories: Finance, Stocks, Banking, Finance, Insurance, Mortgages and Loans
Tags: Banking, Conference, Emerging Trends, Finance, Jack Uldrich, Keynote, Speaking, Wealth Management
---