HOT New Hip Hop Trailblazer Hitting the Scene
Who is Young DRA?
Press Release
-
updated: Aug 24, 2018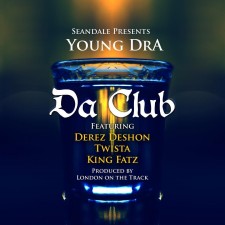 CHICAGO, August 24, 2018 (Newswire.com) - Young DRA is a blazing hot artist that is making power moves and bringing substance to the scene, he is proving that he is so much more than just your average 19-year-old hip-hop artist. Born and raised in Delaware and ready for a change of scenery and most importantly a brighter future with more of an opportunity he moved to the "windy city" of Chicago, Illinois. Young DRA had a passion for music at an early age and recalled listening to and admiring artists such as James Brown, Baha Men and the Notorious BIG. As an adolescent at the young age of 12; Young DRA acquired an Acer computer and a headset microphone that enabled him to create his first record.
Young DRA is an artist who inspires to motivate and revitalize the essence and authenticity of hip-hop music. Young DRA has evolved and matured into the type of artist who recognizes the importance of using "his" voice to spread awareness and create positive messages with witty metaphors and strategic wordplay; opposite of what the majority of artist contribute in this generation. Young DRA hopes to not only inform our communities of the tragedies in our society and our generation but to unite and encourage the people around him to fight for change.
Young DRA's music is a fusion between 90's rap and a fresher sound that has been born into this new era of music, with his style and creativity he will be able to reach a multitude of followers. Young DRA idolizes J. Cole and strives one day to impact the industry in a similar way. Young DRA wants his music to have clear messages to his listeners, in a recent interview he stated: "What's the point of rapping if you're not rapping about something of substance. My talent is a gift to the world; I choose to talk about and do well with it. There is nothing wrong with being a trendsetter, but I rather be an innovator."
Young DRA has a hot new single "Da Club" featuring Derez Deshon, Twista, and King Fatz that was produced by the well-known producer London on the Track. Young DRA has toured with Black Ink Crew Chicago's artist "Thor" and also performed at "Taste of Chicago" on the Budlight stage.
Make sure you do not miss Young DRA he is definitely a hot new hip-hop trailblazer hitting the scene.
Check out his Instagram @draofficialmusic.
Source: BET Mobile Dst Intl
Share:
---
Categories: Music
Tags: Beyonce, Billboard, California, Chicago, Dubai, Hip Hop, Iconic, Jay-Z, Las Vegas, New Music, Top 40, Trailblazer
---