HOOPS Visualize 2020 Enables Higher Level of Customization With Improved Language Support
Press Release
•
updated: Mar 3, 2020
Gold standard graphics engine for engineering applications boosts customization and better workflow integration capabilities to provide seamless and stunning visual quality and application performance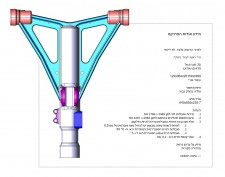 BEND, Ore., March 3, 2020 (Newswire.com) - ​​​Tech Soft 3D, the leading provider of engineering software development toolkits, today announces the release of HOOPS® Visualize 2020, the gold standard graphics engine that powers hundreds of successful engineering applications worldwide. HOOPS Visualize 2020 provides a better-customized experience to meet the needs of a global market, with improved font controls and language customization of the Navigation Cube. HOOPS Visualize 2020 also enables effortless model interaction through the improved Show, Isolate and Hide functions.
"We are excited to use the improved show/hide/isolate functionality from Tech Soft 3D in HOOPS Visualize 2020 to enhance the CAD model manipulation tools in our products so our customers can enjoy a more intuitive and user-friendly workflow," said James Stoddard, President of Sigmetrix. "We have enjoyed a long and successful partnership with Tech Soft 3D. Using their products has been a key part of our product strategy, helping us stay ahead of our competition."
With improved font layout capability and text handling for both real-time and hardcopy output, HOOPS Visualize can now be more widely used in more countries across the globe. Support for right-to-left fonts, such as Hebrew and Arabic, means less time doing manual tasks such as translating and correcting font errors in an application. The Navigation Cube now also supports custom text strings and font selection around color, font and size. This means that not only can HOOPS Visualize be customized to match the look and feel of a user's application, but the language and font can be changed to match the application's localization. With these two improvements, more people are able to use HOOPS Visualize in more countries, increasing support for localization.
The improved Show, Isolate and Hide functions provide better support for user workflows where there is a need to more tightly control which entities in an assembly are visible, and to allow an application's highlight and selection operations to work correctly alongside changes in assembly visibility. This results in a more seamless interaction with models imported through HOOPS Exchange such as interrogating different parts of complex assemblies including construction geometries, hidden entities and the need to have finer control over the visibility of bodies in the component tree.
As always, HOOPS Visualize 2020 supports viewing 30 popular CAD formats when used with HOOPS Exchange.
"The expectations for graphics and visualizations grows higher and higher every year, even every month, and this is where we invest so much of our development – ensuring that developers are able to quickly create stunning, high-quality graphics for any engineering application on any device," said Erik Hultgren, Product Manager of Visualization Solutions at Tech Soft 3D. "We also continue to improve various functionalities that enable users to customize their applications, support advanced workflows and incorporate character fonts for more widespread adoption."
For more information about HOOPS Visualize 2020, visit https://www.techsoft3d.com/products/hoops/visualize
About HOOPS Visualize
Tech Soft 3D's flagship graphics engine has powered cutting-edge graphics in hundreds of successful applications for over 20 years, including software from Oracle, SOLIDWORKS, Trimble, Hexagon, ANSYS, 3D Systems, Mitutoyo, Actify and many more. Companies across the globe rely on HOOPS Visualize for extreme power, performance and consistent stability across platforms, devices and graphics cards. Developers interested in exploring the capabilities of the HOOPS Visualize API can download a demo, or build a prototype by requesting a free 60-day evaluation.
About Tech Soft 3D
Tech Soft 3D is the leading global provider of development tools that help software teams deliver successful applications. Established in 1996 and headquartered in Bend, Oregon, Tech Soft 3D also has offices in California, France, England and Japan. The company's toolkit products power nearly 500 unique applications running on hundreds of millions of computers worldwide. For more information, visit www.techsoft3d.com.
HOOPS is a registered trademark of Tech Soft 3D. All other products or company references are the property of their respective holders.
Media Contact: Angela Simoes, angela@techsoft3d.com, 415-302-2934
Source: Tech Soft 3D