Hollywood Cleanup Brightens Streets and Lives
Church of Scientology volunteers bring happiness to the streets of Hollywood
Press Release
-
updated: Jun 17, 2018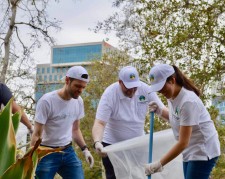 LOS ANGELES, June 17, 2018 (Newswire.com) - With dirty, foul-smelling streets a common complaint of local Hollywood residents and care of the homeless a top community concern, volunteers from the Church of Scientology dedicated their Saturday morning to helping with both.
In what has become a monthly tradition, volunteers swept streets, raked trash from grassy medians and filled 60-gallon bags with broken bottles, discarded bedding, cigarette butts, syringes and every other kind of trash imaginable that would otherwise continue to pollute the Hollywood more than 90,000 Angelinos call home.
Throughout the cleanup, volunteers passed out copies of The Way to Happiness to the homeless and passersby. The booklet is a nonreligious, common-sense guide to better living.
Each month, volunteers make their way through streets populated by homeless, many of whom join in the effort. After one past cleanup, a homeless man, asleep when the volunteers came through, woke to find a copy of The Way to Happiness. He saw the address stamped on the back and walked to the Church of Scientology Celebrity Centre nearby to tell a staff member that the booklet had saved his life — he'd planned to jump off a bridge that afternoon. Now, knowing that someone cared, he chose to live.
The monthly cleanups are part of a partnership between The Way to Happiness Foundation, the Church of Scientology, and the Los Angeles Police Department. Church volunteers also participate in a program of reading to the homeless. 
"We are extremely appreciative of the partnership that the church shares with our Hollywood community," said Captain Cory Palka, commanding officer of the LAPD Hollywood Division, whose senior lead officers took part in the weekend project. "The participation, volunteerism and willingness to make Hollywood a better place to live is evident in the effort put forth by the church and its members."
The Way to Happiness, written by L. Ron Hubbard, holds a Guinness World Record as the most translated nonreligious work of all time by a single author.
To learn more about the Hollywood Cleanup, visit Hollywood Village Facebook.
Source: ScientologyNews.org
---
Categories: Environmentalism
Tags: Church of Scientology, Hollywood, homelessness, neighborhood cleanup, The Way to Happiness
---