HAYSTACKID Returns to Inc. 5000 List, This Time Reaching No. 38 HAYSTACKID Has Climbed the Rankings of the Inc. 5000 Fastest-Growing Companies Once Again.
Press Release
•
updated: Aug 19, 2016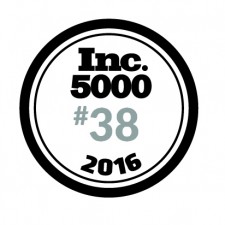 Boston, MA, August 17, 2016 (Newswire.com) - ​International eDiscovery and digital forensics solutions provider Haystack Information Discovery ("HAYSTACKID") today announced that it has once again been recognized as one of the fastest-growing companies in the country.
Inc. 5000 is an annual report that identifies the 5,000 fastest-growing companies in the United States according to revenue increases through a four-year period. This is the 35th iteration of the report, which includes specialized rankings through the Inc. 500 for the top 10 percentile of the larger analysis. This marks the second consecutive year HAYSTACKID broke into the Top 100 of the Inc. 500 category, or 1st percentile.
"It is an honor to once again be recognized on this prestigious list, and surreal to think that we have climbed so much higher in Inc. 5000's rankings over the past two years," HAYSTACKID President and Chief Executive Officer Kevin D. Glass affirmed. "And, while it is uncanny, I'm not the least bit surprised of our success when looking at the faces of our teammates in offices across the country. No one works harder or strives more for excellence than the staff here at HAYSTACKID."
This year's Inc. 5000 found that HAYSTACKID is the 38th fastest-growing company in the United States currently.
This comes after last year's ranking of 67th fastest-growing in the country, showing that the firm remains in a state of rapid expansion. Inc. 5000 also named HAYSTACKID as the 3rd fastest-growing IT services firm in the country, and the fastest-growing IT business in the Commonwealth of Massachusetts.
HAYSTACKID competes in areas of the IT services sector that constantly evolve and continue to grow rapidly with the passing of each year. Despite the challenges presented by this highly competitive landscape, HAYSTACKID remains steady, rising in the Inc. 5000 ratings and ensuring the highest quality of service for clientele.
"I'm proud and excited to be a part of this incredible company," Jefferey T. Stevens, EnCE, CBA, HAYSTACKID Chief Technology Officer, noted. "It has never been easy in this industry, but I have enjoyed every moment of my time here. We never would have been able to make it onto the Inc. 5000, nor climb the rankings in consecutive years, without the herculean efforts of our staff. I commend them, and thank our clients for the opportunities they have given us."
HAYSTACKID thanks Inc. Magazine for its consideration in this report, as well as the many partners, customers, and employees that have contributed to its success since its inception.
About HAYSTACKID
HAYSTACKID is an international eDiscovery and digital forensics solutions provider, with office locations throughout the country, Canada and in Europe. HAYSTACKID provides corporate customers and their counsel with cost predictability options that allow accurate budgeting and forecasting of their discovery expenses without the additional cost of software, hardware or implementation fees. HAYSTACKID is headquartered in Boston with offices in New York; Washington, D.C.; Chicago; Dallas; Houston; Los Angeles; San Diego; San Francisco; Beaverton, Oregon; Toronto; Paris, France; and Frankfurt & Berlin, Germany.
Press Contact
media@haystackid.com
877.9.HAYSTACK (877.942.9782)
Source: HAYSTACKID
Related Media