Hawthorne Global Aviation Services Hosted Over 450 Aircraft During the NFL Championship Game Week at Its Atlanta Cobb County International (KRYY) Location
Press Release
•
updated: Feb 27, 2019
What could easily have been a logistical tangle was avoided by the meticulous preparation and superb performance of Hawthorne Global Aviation Services.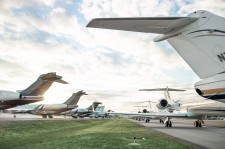 ATLANTA, February 27, 2019 (Newswire.com) - Sports fans from around the world descended on Atlanta for the big game, and Hawthorne Global Aviation Services played a major role in managing the flood of air traffic at its Atlanta Cobb County International Airport (KRYY) location.
"Coordinating the arrival and disposition of over four hundred and fifty aircraft was just part of the challenge," says Hawthorne Global Aviation Services General Manager, David Kucko. "We also made sure that every VIP passenger and crew member received impeccable service during their stay."
The FBO's services included: arranging ground transportation, providing pilot and passenger lounges, concierge services, on-site catering, full-time police security, 45 experienced line service technicians, increased customer care agents and more. Kucko revealed that over a year of planning went into preparation for the event.
"Post-game operations tested our team with a mass influx of aircraft departures," recalls Hawthorne's President and CEO, Bryon Burbage. "Arrivals were spread out over a week, so incoming operations were well-timed and without incident. But when Tom Brady finally hoisted the Lombardi Trophy, everyone wanted to get out of town as quickly as possible, and it was our job to make that happen smoothly and efficiently. Our entire team pulled together and offered our VIP guests a seamless experience."
About Hawthorne Global Aviation Services
Hawthorne Global Aviation Services is a premier provider of general aviation services, with a rich history in the industry dating back to 1932. Hawthorne operates six premier Fixed Based Operators (FBOs), including Long Island MacArthur Airport in Islip, NY (KISP), Cobb County International Airport in Atlanta, GA (KRYY), Chicago Executive Airport in Chicago, IL (KPWK), Chippewa Valley Regional Airport in Eau Claire, WI (KEAU), Tuscaloosa Regional Airport in Tuscaloosa, AL (KTCL) and Sioux Gateway Airport in Sioux City, IA (KSUX).
Its Long Island MacArthur Airport location in Islip, NY (KISP) offers private jet charter, maintenance, and avionics installations; the Chippewa Valley Regional Airport in Eau Claire, WI (KEAU) FBO offers private jet charter and maintenance; and the Tuscaloosa Regional Airport FBO in Tuscaloosa, AL (KTCL) offers private jet maintenance.
For more information on Hawthorne Global Aviation Services, please visit www.hawthorne.aero.
For more information, contact:
Name: Christina Millard, Executive Administrator
​Phone: (843) 553-2203
​Email: CMillard@Hawthorne.aero
Source: Hawthorne Global Aviation Services
Related Media