Harvey A. Moore, Ph.D, Addresses Manasota Trial Lawyers Board on Using Data for Trial Preparation
Attorney Bernard Walsh Hosts Guest Speaker Harvey A. Moore, Ph.D for the January Manasota Trial Lawyers Board Dinner and Seminar
Press Release
-
updated: Feb 5, 2016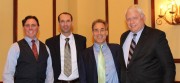 Bradenton, FL, February 4, 2016 (Newswire.com) - Personal injury and civil trial lawyer Bernard Walsh welcomed guest speaker Harvey A. Moore, Ph.D of Harvey Moore and Associates to the January meeting of the Manasota Trial Lawyers Board.
Dr. Moore, a specialist in technical and support services for plaintiff's attorneys and other contentious litigation areas, spoke to the gathering of the Sarasota/Bradenton areas' most experienced trial lawyers. The seminar focused on utilizing data to prepare for court room arguments and jury selection.
Dr. Moore was joined by a panel of prominent local trial lawyers including Attorneys Damian Mallard, and M. David Shapiro and Stephen Fernandez of the Sarasota personal injury law firm Shapiro Goldman Babboni & Walsh.
The members of the discussion panel offered answers to attendees from the perspective of the trial lawyer on how to use data to prepare arguments for jury selection and trial. The panel also advised attendees on how to how to use focus groups to get valuable feed back when preparing for a case to go to trial.
As well as learning directly from the Guest Speaker and panel of attorneys, attendees received 2 CLE credits. Bar certified attorneys are required to earn CLE (Continuing Legal Education) credits each year to remain a member in good standing. The CLE credit system ensures the Florida Bar Association members stay current and educated in their areas of practice to promote excellence in legal representation.
Attorney Bernard F. Walsh, founder of the Manasota Lawyers Board and partner at Shapiro Goldman Babboni & Walsh had this to say about the event, "Thorough research and data gathering on many levels is crucial for any attorney to succeed for their client in a court of law. During a contentious trial, an attorney will need to have every advantage possible to win for their client.  Having Dr. Moore, as well as Attorneys Damian Mallard, Shapiro and Fernandez, share their experience and advice on using data gathering including focus groups with MTLB members is beneficial to all that attended. As most cases settle out of court, this kind of real-world experience on trial prep can be invaluable to new attorneys or attorneys new to taking a case to trial. I want to thank Dr. Moore and all who attended the seminar and look forward to seeing everyone back at our next meeting."
About Attorney Bernard F. Walsh:
A highly experienced AV rated attorney and founder of the Manasota Trial Lawyers Board, Bernard Walsh is an active member in multiple legal organizations including the Association of Plaintiff Interstate Trucking Lawyers of America (APITLA), the Multi-Million Dollar Advocates Forum, the Florida Justice Association, the National Trial Lawyers Association and the National Association of Distinguished Counsel.
Bernard Walsh is an active member of the Manatee and Sarasota Sheriff's Advisory Boards, the Florida Highway Patrol Advisory Council and the One Hundred Club for Law Enforcement in Manatee.
Partner at the Personal Injury and Civil Trial Law firm of Shapiro, Goldman, Babboni and Walsh, Bernard Walsh has helped hundreds of Floridians get fair compensation for injuries. Additionally, Bernard Walsh has won one of Florida's largest motorcycle accident recoveries and has an AV Preeminent® rating on Martindale-Hubbel®, a doctors and attorneys ratings website and is a Superb rated attorney with Avvo.com.
Shapiro Goldman Babboni & Walsh
5291 Office Park Boulevard, Bradenton FL, 34203
Local: 941-752-7200
More information: http://www.GetMejustice.com
Shapiro Goldman Babboni & Walsh
5291 Office Park Boulevard, Bradenton FL, 34203
Local: 941-752-7200
More information: http://www.GetMejustice.com
Share:
---
Categories: Law Firms, Law News, Lawyers
Tags: attorney, law, lawyer, personal injury lawyer
---