HARDCAR Continues to Distribute Cannabis While Other Distributors Shut Down During California Lockdown
Press Release
•
updated: Mar 20, 2020
Amidst California's current lockdown, Essential Services Sector (ESS) companies may continue to operate while others MUST shut down.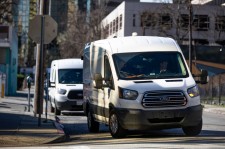 PALM SPRINGS, Calif., March 20, 2020 (Newswire.com) - HARDCAR, an ESS qualified cannabis distribution and secured logistics company based in the Los Angeles and San Francisco regions, announced today that it is ramping up its efforts during these crucial times in order to keep the cannabis industry moving forward.
As the industry stumbles from a shut down notification to all non-essential services, ESS companies may continue to operate throughout the state of California when other companies must cease operations. This leads to a logistical challenge in order to continue moving product on a daily basis. HARDCAR, who has led the secured distribution industry for 4 years, has been ESS qualified since its inception.
"We saw this one 3 years ago when the first quakes were hitting in California, so we made sure all vehicles were ready for events like this. We started by installing air purifiers in our trucks and had fantastic results, and then we added satellite phones and generators. We are very prepared." - Todd Kleperis, HARDCAR
HARDCAR has led the industry with over $1B in product and cash transported since its inception in 2016. As a consistent provider of cash to the Federal Reserve and a leader in secured distribution, it's no wonder that HARDCAR has reached out to other distributors to start an alliance.
"Right now it's not about profit, it's about sustainability and moving through very tumultuous times. Who better than the U.S. military veterans on our team to pave the way in a time of crisis? I'm proud of our team for never wavering and never faltering as they make this industry secure." - Salvatore Moccia, HARDCAR CEO
All other distributors in the state of California that are interested in an alliance to move product during this crisis are asked to contact Todd Kleperis at todd@hardcar.com.
Media Contact
media@hardcar.com
About HARDCAR
HARDCAR is an award-winning transportation and secured logistics company with a proven track record of cultivating and maintaining meaningful relationships with cannabis and non-cannabis businesses alike. From Cash In Transit (CIT) to Distribution, Banking, and Secured Storage & Vaulting, HARDCAR provides all of the necessary services a company needs to keep their assets safe and secure.
HARDCAR offers a fleet of hi-tech armored vehicles that are manned by highly trained, situationally aware US Military Veterans, drastically increasing the level of safety of valuables while in our hands. In addition, our premium insurance is just one more level of protection. HARDCAR continually reinforces public safety while transporting and storing all assets. For more information, please visit www.hardcar.com.
Source: HARDCAR