Happiness Can Be Affordable While Paying Student Loans, Says American Financial Benefits Center
Press Release
-
updated: Oct 11, 2018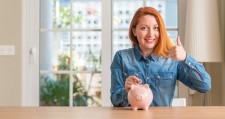 EMERYVILLE, Calif., October 11, 2018 (Newswire.com) - Student loans can make spending money on things that contribute to happiness feel like a mistake. Every dollar spent toward happiness is another dollar that a student loan borrower could have spent on repaying their student loans. It can feel like student loans are encouraging a life of miserliness and subsistence. It may even feel like student loans are killing the life that education was supposed to facilitate. Student loan borrowers may be happy to know that there are alternative repayment programs that may allow them to live the happy life that they hope for. American Financial Benefits Center (AFBC), a document preparation company, has helped its clients apply for these federal repayment plans and encourages them to continue to work toward their happiness and their future.
"Some borrowers feel like they are being punished for using money for anything other than paying off their student loans," said Sara Molina, manager at AFBC. "Luckily, federal loans have options that can help a borrower reach a happier state of mind."
Borrowers who want to be able to afford their happiness and student loans should look into an income-driven repayment plan (IDR). When a borrower is enrolled in an IDR plan, their monthly payments are lowered to 10 to 15 percent of their monthly discretionary income, which can be as low as $0 depending on their circumstances. In addition, borrowers on an IDR obtain loan forgiveness after 20 to 25 years of remaining on the IDR plan. By using this strategy, borrowers may be more able to live the happy life that they wished for.
If borrowers still feel unable to enjoy themselves, there are many ways to have a good time without spending too much money. For example, borrowers may look into local activities and resources:
Libraries are great resources for readers, but a library card will also get patrons all kinds of media, including books, movies and video games.
Public museums can be inexpensive and great for a local cultural experience.
At-home social activities don't require money, such as board game nights or movie nights, and can increase happiness with great company.
"Borrowers might feel like their student loans force them to play their game, but there are other options you can control," said Molina. "Borrowers who want to experience more happiness in their lives should look into different student loan repayment plans in order to find that happiness."
About American Financial Benefits Center
American Financial Benefits Center is a document preparation company that helps clients apply for federal student loan repayment plans that fit their personal financial and student loan situation. Through its strict customer service guidelines, the company strives for the highest levels of honesty and integrity.
Each AFBC telephone representative has received the Certified Student Loan Professional certification through the International Association of Professional Debt Arbitrators (IAPDA).
American Financial Benefits Center Newsroom
Contact
To learn more about American Financial Benefits Center, please contact:
American Financial Benefits Center
1900 Powell Street #600
​Emeryville, CA 94608
1-800-488-1490
​info@afbcenter.com
Source: American Financial Benefits Center
---
Categories: Financing and Student Loans, Financial News
Tags: federal student loans, financial stress, happiness, income-driven repayment
---