Hamilton Hosts NJ State Theatre Business Council Event
Press Release
•
updated: Sep 19, 2019
Inaugural event for Business Council at Brick Farm Tavern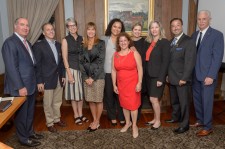 PRINCETON, N.J., September 19, 2019 (Newswire.com) - Hamilton Jewelers Business Gifts Division and State Theatre New Jersey hosted the inaugural Business Council event Monday at Brick Farm Tavern in Hopewell, inviting guests to enjoy farm-to-table dining, caricature illustrations and makeup tutorials while networking with key members of New Jersey's business community.
"We're so pleased to launch our 2019-2020 season with this amazing Business Council event," Sarah K. Chaplin, CEO and president of State Theatre New Jersey, said. "State Theatre is about bringing people together. I've been here for one year and I have been embraced by every aspect of this community, including the business community, of which it's been so wonderful to meet so many fellow entrepreneurs and executives who believe in what we do and we believe in what they do."
More than 200,000 visit State Theatre New Jersey annually for more than 200 performances and events at the 98-year-old, 1,800-seat venue in New Brunswick, while the theater's nationally recognized education and community engagement programs touch the lives of more than 35,000 students, teachers and families each year with accessible and affordable arts programming.
Hamilton maintains a robust B2B location that serves businesses, academic institutions, and many organizations with employee recognition programs, milestone gifts, and achievement awards. "This is the first networking event for our B2B division, and it was great to work with the wonderful team from State Theatre New Jersey," Donna Bouchard, vice president at Hamilton Jewelers in Princeton, said.
State Theatre New Jersey's Business Council is a newly formed networking group designed for like-minded businesses who have achieved financial and business success that also want to contribute to and support their community.
To learn more about the State Theatre New Jersey's Business Council, email Audrey Carmeli, Manager of Corporate and Foundation Relations, at acarmeli@stnj.org. To contact Hamilton for Business, please email Diana Wilf, Manager, at dwilf@hamiltonjewelers.com.
Source: Hamilton Jewelers