Hamilton Jewelers Makes Holiday Charitable Donations
Press Release
•
updated: Dec 14, 2020
Four non-profits receive donations from Hamilton and the Siegel family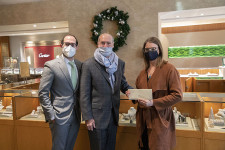 PRINCETON, N.J., December 14, 2020 (Newswire.com) - In a year where supporting our neighbors is more important than ever, Hamilton Jewelers and the Siegel family have opted to redirect client holiday gift funds to assist four charitable organizations in New Jersey and Palm Beach, FL.
On behalf of their clients, Hamilton has made donations to these four groups, selected because of excellent financial responsibility and fiscal transparency while also serving urgent needs in the communities they serve:
Arm in Arm, Trenton, NJ: Arm In Arm is a place where the community comes together to make sure all have the most basic needs of food and shelter and, as possible, the livelihood to maintain them. Formerly known as The Crisis Ministry.
HomeFront, Lawrenceville, NJ: HomeFront's mission is to end homelessness in Central New Jersey by harnessing the caring, resources and expertise of the community. Since its inception 25 years ago, HomeFront has worked to break the cycle of poverty and end homelessness in Central New Jersey, serving thousands of Mercer County families.
The Lord's Place, W. Palm Beach, FL: The Lord's Place is dedicated to breaking the cycle of homelessness by providing innovative, compassionate and effective services to men, women and children in the community. The Lord's Place has served the homeless in Palm Beach County for more than three decades.
Boys Girls Club of Palm Beach County: With a mission of: To enable all young people, especially those who need us most, to reach their full potential as productive, caring, responsible citizens, BGC of PBC works to provide a world-class Club experience that assures success is within reach of every young person who walks through their doors.
"One of our firm's core values is Community and we take our responsibility to support our neighbors very seriously," says Hamilton president Hank Siegel. "This initiative is aligned with the values of Hamilton and of our family, particularly in this time of such dire need."
Checks were presented to the organizations recently by members of the Siegel family and clients were notified of the gesture made in their name as well.
Hamilton Jewelers is a fourth-generation, family-owned and operated business with locations in Princeton and Palm Beach. For more information, please visit www.hamiltonjewelers.com.
Source: Hamilton Jewelers